EPISODE 108: SHOW NOTES
Why is it that raising your prices can be so hard? On this episode, I'm chatting with Denise Duffield-Thomas, author of Get Rich Lucky Bitch and Chillpreneur, on the 3 money blocks that keep freelancers from under-charging and over delivering!
Denise covers why it was so difficult for her to even ask for money in exchange for her services early on. Plus, she shares the steps we should take to identify our personal money blocks and how to move past them.
Head over to Instagram to share your ah-ha moment from this episode + what small action you're doing with the great info Denise shared! I know I'll be using her mantra, "I serve, I deserve" to get through money block moments!
Thanks for hanging out with us today!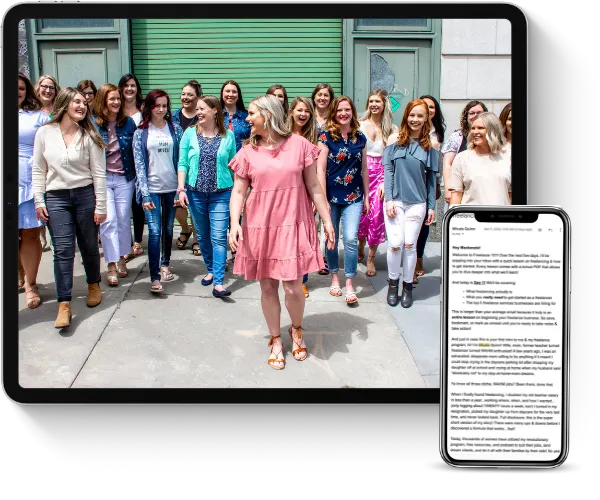 Learn how to earn $3K a month+ as a freelancer working less than 25 hours a week even if you think you have no experience.
This FREE crash course will teach you all about the freelance industry, so you can finally end the family vs. finances battle.
In this episode, we cover:
The 3 money blocks most common to freelancers and service-providers,
The steps we should take to identify our personal money blocks, and
How to move past a money block when it comes up
Resources and links mentioned in this episode:
Don't miss last week's episode on why you should consider pivoting to grow your freelance business!
**This post about money blocks may contain affiliate links, which means if you click one of our affiliate links and decide to make a purchase, we receive a tiny commission from the seller at no additional cost to you. We only share products and services we have used, tested, and love ourselves!**