EPISODE 109: SHOW NOTES
Grab a pen because we are determining your personalized strategy to land clients in this episode!
I cover the three parts you need to build your strategy and how this type of goal setting works in any area of your life! This episode is packed full of information you can take and implement into your business today.
Once you've listened and written out your strategy, come share it with us in the Live Free Mastermind FB group! I want to see what you've created and cheer you on as you implement it in the coming days.
Thanks for joining me today – I know your time is valuable and I hope you walked away from this episode with a plan and feeling inspired that you can do this (because you can!)
**This post about how to land clients may contain affiliate links, which means if you click one of our affiliate links and decide to make a purchase, we receive a tiny commission from the seller at no additional cost to you. We only share products and services we have used, tested, and love ourselves!**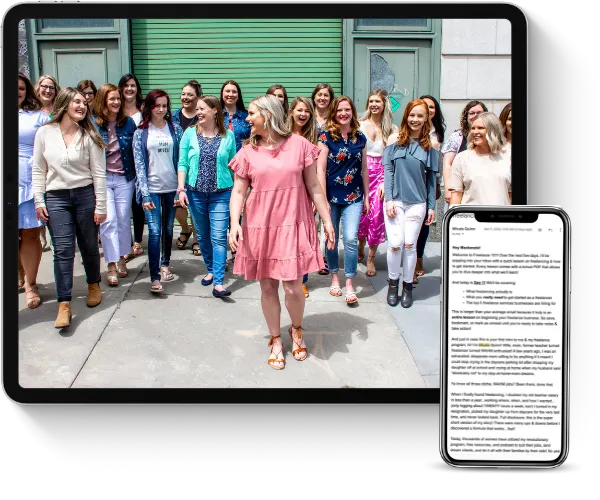 Learn how to earn $3K a month+ as a freelancer working less than 25 hours a week even if you think you have no experience.
This FREE crash course will teach you all about the freelance industry, so you can finally end the family vs. finances battle.
In this episode, we cover:
The three parts you need to build your unique strategy to land clients,
Why traditional goal setting doesn't work, and
How this type of goal setting works in any area of your life!
Resources and links mentioned in this episode:
Episodes mentioned:

Triple your goals by listening to Episode 81 with Kirsten Tyrell!
Check out my episode with Stacy Tuschl – Episode 103

Did you know my paid program, Overwhelmed to Overbooked is open for enrollment?! Learn more here!