Ashley Greer is a Live Free Academy alum and is sharing her story of traveling the country in an RV, working from home while homeschooling her daughter! She is diving into the ups and downs of starting a business while traveling full-time, homeschooling, and freelancing from her RV.
If traveling full-time in an RV or homeschooling is a dream you have in your heart, or something you may want to do someday–this episode is for you!
And if you don't want to travel in an RV or homeschool, Ashely is going to give us some great insight into how she got started and made working from home while homeschooling work, giving you a lot to take away from this episode and her story.
Getting Started Working from Home While Homeschooling
Ashley's background
Ashley always wanted a job that she could do from home, and it wasn't until she had her daughter, 9 years ago, that she found out that it was something that she could do.
Ashley worked selling Scentsy, which was fun, but it wasn't something she could make a living doing.
Before that, she worked for 9 years in a preschool as a paraprofessional working with children with disabilities. She then transitioned into working with mental health families with veterans with PTSD because of her background with her husband being a veteran.
How Ashley started working from home
In 2020, one night on Facebook Ashley saw an ad for a Live Free Academy free workshop. After watching the workshop it sounded right like it was everything she wanted to do. So she signed up for the program that night!
The following day, her father passed away. She took a few months after that point to allow herself to grieve. This event made something inside her shift, and she decided this is what she wanted to do. To be home with her daughter and husband because time is so short.
Ashley started the course in July 2020.
In August she landed her first client, but sadly it ended after 30 days. Ashley remembers downward spiraling because her emotions were still all over the place, and wondering if she could do this.
Ashley reached out for support and says she still remembers this advice she got to this day. That was to go into The Live Free Academy group and find other ladies for accountability. So Ashely did, even though it was out of her comfort zone.
There was a group of 5 that she would meet with about once a month to set goals, chat, and encourage each other.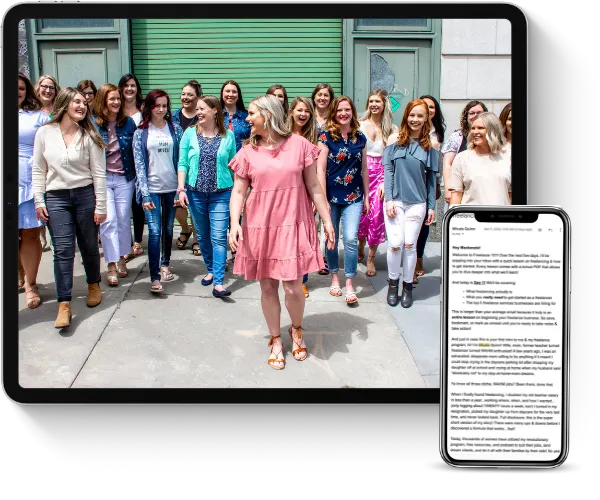 Learn how to earn $3K a month+ as a freelancer working less than 25 hours a week even if you think you have no experience.
This FREE crash course will teach you all about the freelance industry, so you can finally end the family vs. finances battle.
Finding Clients for Her Work-from-Home Business
Ashely started applying for jobs and found one on the Live Free Job Board. It was a perfect fit. It was in mental health, Ashley's niche, so she applied for it. She got on a discovery call, and it went really well, but in the end, they picked someone else.
Then about a month later, that same person reached out and said she was looking for someone to do social media management. They chatted on a call and the potential client ended up hiring her! And they are still working together to this day, 2 years later!
How Ashely found clients working from home while homeschooling
Ashely says she posted her business on her personal page. 3 out of her 5 clients are either friends or local businesses that contacted her after hearing about the services she offers.
Client breakdown
3 are friends from her personal network that reached out to her.
1 is the business she was working at before she started freelancing, the counseling center.
1 is a referral from her first client, with whom she is currently working.
Packing Up and Getting Out
During Covid, she had started following other full-time RVers and admiring the lifestyle. With her current freelancing schedule she realized she could do it too.
She already knew she wanted to homeschool her daughter, work from home, and set her hours.
And with her husband working full time, they never saw each other. They knew there was more to life than all this stuff.
So, they decided to sell their house, 90% of their stuff, and her car. They bought a camper, pulled their daughter out of school, and moved into the camper.
How Ashley schedules working from home while homeschooling
Ashely's husband is a disabled veteran, so he is not currently working but helps with homeschooling when Ashely has client work.
Ashley does school on Monday, Wednesday, and Friday mornings, and on Tuesday and Thursday mornings her husband does school.
Ashley says they do follow a homeschool curriculum, but they also do a lot of road schooling where they teach while out and about on the road. So, while at zoos, museums, or nature walks.
Ashley works anywhere between 10-25 hours a month. She works very sporadically and doesn't work on a schedule except when her husband is doing the homeschooling every Tuesday and Thursday for 2-3 hours.
Monthly income
Working about 25-30 hours with 5 clients, Ashley makes over her goal of $2,000 per month. She is currently looking to raise her rates.
Life as an RV Traveling, Working from Home while Homeschooling Mom
Ashely and her family move about every 3 weeks. When they land in a new place, they get up in the morning, do school, and are usually done before lunch. The rest of the day, her daughter goes outside and plays and meets friends from wherever they are.
Ashley loves this style of learning for her daughter because she is actually going to these places to visit them rather than just learning about them in textbooks.
They love this lifestyle and plan to travel to the East Coast when the weather gets warmer this summer. Currently, they are in Tennessee and have been from Texas to Alabama, Kentucky, and now Tenessee.
Right now they are just going with this plan and want to see the whole country before they stop traveling. That means probably at least 2 years of living this traveling-working from home while homeschooling lifestyle. Then even if they do decide to go back home, they want to live a minimal lifestyle where they may just live out of their camper.
She says they've gotten a lot closer in this journey in the past few months, and that is exactly what Ashely wanted when she began this journey!
If you want to follow along with Ashely and her family's travels you can follow along with her @radnomadadventure!
If you want to travel the country while working from home in your RV like Ashely, learn more about freelancing at MicalaQuinn.com/freeresources. All the resources are designed to help you learn more about the world of freelancing and how you can start a business working from home!
The Live Free Academy course can help you at every stage of starting and growing your business. Inside this course, you get full access to a how-to build your business so you can get ready for clients ASAP!
You will get all the tools and templates, skills training, and the most supportive community of freelancers on the internet by your side! Plus, you get weekly coaching calls, freelance job leads from the exclusive LFA Hire Form available only to the LFA community, and monthly land your client goals challenges.