Gearing up to work remotely with kids in your home? Me too.
I've been in denial over here for a while. We've been on a self-imposed lockdown since last Thursday.
At first, I was planning on just staying home, keeping kids home, but trying to go on as normal with our babysitter. Maybe even work a little bit more since she's out of school for the foreseeable future.
But as I read more about WHY we are doing this I understand. It's not just about it not being as bad as the flu or it not being dangerous for children (that we know of) or people under 50, it's about hospitals not being able to handle the influx of people who need care, whether it's covid related or some other reason someone would need care.
Here is the link to the post that helped me get out of denial and into proactivity. 
It's not about those of us here who are healthy or not feeling symptoms, it's about those who will need care in the future.
I've decided to pause our sitter for this week, hope she doesn't experience any symptoms, hope my family doesn't over the next week and reevaluate for next week, based on what is good for all.
I hope you can do the same, too.
It will be hard, it will be challenging, but nothing we can't work through! 
In case you are used to working from home without kids OR in case you are used to going into the office and kids are in school or childcare, here are my tips to making remote work, work for you!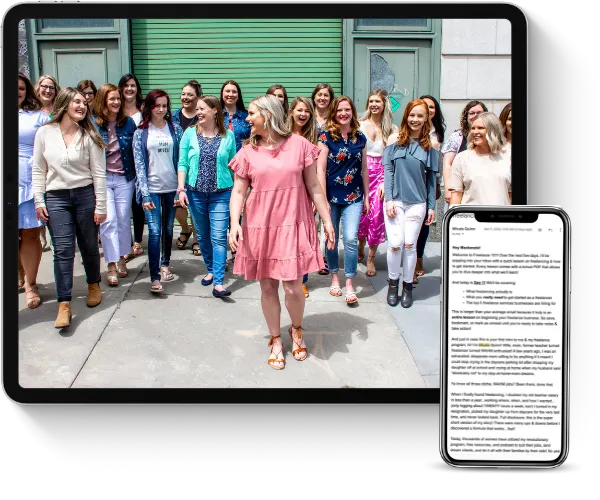 Learn how to earn $3K a month+ as a freelancer working less than 25 hours a week even if you think you have no experience.
This FREE crash course will teach you all about the freelance industry, so you can finally end the family vs. finances battle.
I manage and run my business working less than 20 hours a week from home, typically I have childcare lined up when I am working, but I didn't always have that luxury. In the early days, I fit building and growing my business around a busy bee toddler and a clingy mama's boy and this blog post compiles some of my best tips and secrets on how I used to do it and how I will do it for the foreseeable future! 
How to set yourself up to successfully work remotely with kids 
Number one:
Set realistic expectations for getting work done remotely 
There's nothing worse than creating the world's best plan of all the things you want to accomplish and then crossing one of the 1001 things off that list. This makes you feel like a failure and defeated and then the spiral of doom happens. Ask me how I know! 
In order to take stock of what you can realistically get done remotely, create a schedule for you and your family to follow. Look at the schedule and calculate how much time you will have to work each day. 
If you work a typical 9-5, don't worry about trying to fit in 7 hours of work. (seriously, how much time at your 9-5 is ACTUALLY productive?) 
It's about the quality of work you get done rather than just working to work for 7 hours straight.
Talk to your boss, your team, your manager and identify what are the top priorities, what is second, and what can be on hold until things are back to normal. 
We'll talk more about creating a plan and schedule below, but it's important to first be aware of how much time you will actually have to work each day. 
Some tips for finding time to get work done remotely 
What about the early morning hours? The great thing about working from home is that no one sees you, you don't have to spend a ton of time getting ready. In fact, if you need to maximize time, one thing I used to do was wake up EARLY like 5 am, roll out of bed, grab coffee and work until my kiddos woke up. This gave me 10+ hours of dedicated, no interruptions of work time each week. 
Naptime. If your kiddos are younger and still nap you better take advantage of this time as another solid block of work time to get stuff done. For us here naptime is from 1pm-3:30pmish. That's on average another 10+ hours of dedicated, no interruptions of work time each week. 
Implement a rest time or quiet time for older kids. Mclaren doesn't nap anymore even though she really needs it. But I still need this time to get stuff done, and she deserves a quiet time to rest and relax and practice entertaining herself. One tip I will be implementing with her is a tip I learned from Tonya Dalton, author of Joy of Missing Out on the interview I did with her on my podcast. She shared in this interview that she would do something like this…. Spend some quality, distraction-free time with the kiddos, then tell them hey in 15 minutes mom is going to start working, during this time I will NOT be available to get you a snack or a toy, so whatever you need or want for the next hour you need to ask me now because if you ask when I am working the answer will be no. And then give a 10-minute warning…  and a 5-minute last chance reminder… And then when it's work time put up a sign and anytime the kids come to ask for something whether it is a snack, a special toy, or anything it is no. Always no. No exceptions. Obviously this will not work for babies, but older toddlers and older kids, yes. But the thing is, and one thing Tonya mentions in the episode is that it is up to us to communicate this with our kiddos ahead of time and then we have to follow through. If we don't follow through, it will never work. Just plan for the first couple of times to be a bit rough, and also keep the work chunks appropriate to the child's age. 
Teamwork. If your spouse will be home divide the day and care for the kiddos together, work together, and communicate what times you need to be kid-free and distraction-free and what times they do.
Number two: have a plan
I don't always plan my week out on Sundays, but when it's a busy week or a week with lots of stress, I sure do and it helps 100%.
Here's the step-by-step plan I follow when I am on my remote work A-game!
Step one: Look at your calendar Monday – Friday and breakdown the day hour by hour and create a loose schedule to follow. Add up how many hours you have to work each week!
Here's mine for our corona quarantine: 
Step two: Make a list of all the things you need to get done for work and estimate how long each thing will take you. For bigger tasks, break them down into the small chunks or pieces needed to accomplish the project. Add up how many hours you estimate everything will take. 
Step three: If you have too much to do and not enough time on the calendar to get things done, either go through your list and put the non-essential tasks on hold for the next week or add more time to your work schedule in step one… look at weekends and/or evenings if necessary. 
Step four: Get out your planner or just use a notebook and paper if you don't have a planner and schedule your to-do's into your planner each day, so when it comes time to work, you know exactly what you are going to work on at each time. This is crucial for not wasting time wondering, what should I do, flip through email, get lost on FB, go down a rabbit hole reading about how awful the world is.              
Step five: Follow through as best as you can. I typically leave my evenings and Fridays open for overflow if needed.
Number three: my favorite resources for collaborating and working remotely with others
Voxer. Ain't nobody got time for phone calls, texting, or emails. Voxer is a walkie-talkie type app where you can send voice messages to friends, coworkers, clients, colleagues, whoever and they can respond in a voice message when it works for them. FREE! Try it here. 
Zoom. Need to hop on a conference call to collaborate or meet or work on a project together, zoom is my favorite tool. They have a free version and you can screen share and multiple people can be added into one room! Try it here. 
Trello. This is how my team stays organized and up-to-date on all of our various projects. Try it here.
Number four: y
our best asset when making remote work, work for you is your mindset.
 (Heck your best asset in ANYTHING is your mindset). 
If you go into this thinking this will never work, there's no way possible to care for your kids and get work done, of course that will be your reality. 
But if you are able to move past your frustrations and your annoyances and agree to do this for the good of all, and see your frustrations as challenges that CAN be solved, you will weather this storm just fine. 
Complaining and negativity are contagious, so is problem solving and positivity. I choose to spread positivity and do what I can to help others work through the challenges in whatever way I can. 
If you are facing a challenge or need help figuring out a solution, we started a thread in my facebook group, The Live Free Podcast Mastermind where you can come and share what you need help with and our 15K+ members and myself will help you come up with some solutions! 
Stay healthy and safe!
P.S. When I'm not sharing tips about how to work remotely with kids, I am inspiring and helping moms build flexible freelance careers from home! I created my ultimate freelance guide to share all about freelancing and how you can get started freelancing too! Here is the link to download that guide.