The best option for a work-from-home mom to make a full-time income and STILL be present for their kids is FREELANCING!
What is a Freelancer?
A freelancer is basically someone who specializes in a specific skill set and helps other businesses grow their business. A freelancer is not an employee. Freelancing is a perfect option for women wanting to be a work-from-home mom.
A freelancer does not work FOR someone, but with someone. A freelancer either works on a project basis or a monthly retainer. Some freelancers charge a flat fee per project, others charge hourly. It's your choice and your decision!
Your specialized skill set may be social media, design, tech, Pinterest, copywriting, bookkeeping or just saving them time and operating as a virtual assistant.
Who Hires Freelancers?
Corporations, small businesses, brick and mortars, and online businesses.
This is my specialty. Connecting freelancing moms (aka work-from home mom) with online businesses who are dying for help and support! Think lifestyle bloggers, mom bloggers, food bloggers, influencers, business coaches, parenting coaches, life coaches, career coaches, online therapists, podcasters, etsy businesses, direct sales ladies, product-based businesses, online boutiques, online course creators and the list goes on.
Just go to Pinterest and search for a topic… anything… you will be taken to a bunch of pins that all lead to a blog post, a product, or a website. If you click the link and go look at that website, chances are that link leads to an online business that has monetized their business in some way, and I BET they have a team of freelancers supporting them or are on the verge of starting to hire.
Why Do They Hire Freelancers?
It takes a lot to run, grow, and scale a business. Just take a listen at this list of tasks an online business has to juggle at once:
Creating free content (blog posts, podcasts, youtube videos, SM posts, FB lives)
Creating paid content (courses, coaching programs, 1:1 clients)
Maintaining and running a website
Maintaining and running a FB account, an IG account, a linked-in account
Maintaining and running a Pinterest account
Responding to emails (customer service)
Creating sales funnels — designing the pages, writing the emails, doing the tech hook-up
Promoting the business
Running FB ad campaigns
Running Pinterest ad campaigns
Optimizing content for SEO
Producing a podcast
Creating products
Reaching out for podcast interviews, sponsorships, guest blog posts, collab opportunities
Daily admin tasks, answering client questions,
Client calls, or group calls,
Planning projects and launches
Most online business owners go into business in the first place because they want to spend more time with their family, have more freedom + flexibility, and more $, but running and maintaining a business, not to mention growing takes a lot of time and energy. They might even be a work-from-home mom just like you: so their time is precious, too!
And most people don't want to do it all themselves!
Either some of the necessary tasks, they are just not good at, don't know how to do them, OR they don't want to work 20+ hours a day to make their dream happen.
I am the business owner who knows enough I could do it all on my own, but I don't want to and there are thousands, maybe millions of businesses out there like me and they ARE dying for your help.
Whether you have a specialized skill set or you can just help save them time! They need your help to grow.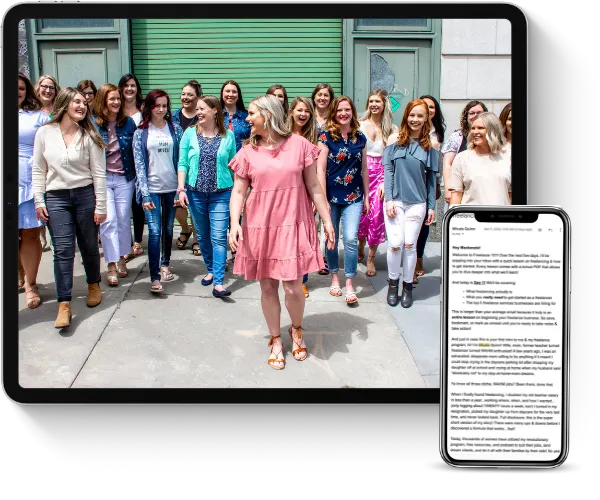 Learn how to earn $3K a month+ as a freelancer working less than 25 hours a week even if you think you have no experience.
This FREE crash course will teach you all about the freelance industry, so you can finally end the family vs. finances battle.
But the best part, they are willing to pay you for that help and your expertise!
How Much Can Freelancers Earn?
It all depends. Hourly rates may vary, but here is an average:
Beginner – $20-30
Intermediate – $30-45
Specialist – $45-70
Expert – 70+
It's going to depend on skillset and the type of work you are doing.
***Most freelancers (aka work-from-home moms) charge a package price, but the hourly rate is used to determine that package. Also, as a freelancer, you can increase your prices whenever you want. You could start out around $30 an hour and in 6 months have doubled your hourly rate to $60+.
Life before I started freelancing was an endless cycle of RUSH, RUSH, RUSH!

Wake up, rush around the house getting everyone ready, rush out the door- oh wait! Can't forget the breast pump! Rush back inside for a mad scavenger hunt to locate the pump & all its parts, the back out to the car. Rush hour traffic, rush into daycare, rush into my classroom. Then the cycle started all over at 5 – rush hour traffic, rush Mclaren home from daycare, rush through dinner to try & squeeze in family time.
I was exhausted, overwhelmed, & most of all over it.
When I finally found freelancing, I doubled my old teacher salary in less than a year…working where, when, and how I wanted. I turned in my resignation, picked Mclaren up from daycare for the very last time, and never looked back. I made ALL my work-from-home mom dreams come true…making MORE money & working less hours!
Today, over 1300+ women have utilized my revolutionary program to quit their jobs, land dream clients, and do it all with their families by their side!  
If you are interested in learning MORE about the opportunities available for moms who want to work-from-home as a freelancer, check out this podcast episode!
If you are ready for a LASTING SOLUTION to the never-ending rushing, stressing, & balancing act required of a working mom in 2021, get started now with the FREE ultimate guide to freelancing!
Why freelancing options are limitless for a work-from-home mom
Freedom.

84% of full-time freelancers state that their work allows them to live the lifestyle that they want. AKA…no more conference calls when you're in the middle of the dreaded witching hour. YOU say when, where, what, & how much!

Flexibility.

42% of freelancers agree that freelancing allows them the flexibility they need because they are unable to work for a traditional employer because of personal circumstances (like childcare needs!). Daycare under quarantine yet again?! No need to scramble for a last-minute sitter or apologize for every time your little one pops up in a Zoom meeting- you're the boss now!

Financial stability.

60% of freelancers earn more freelancing than they did with an employer (and most got there in less than 1 year!). Stop stressing about layoffs or worrying that the number of sick days you've been

forced

to use because of – oh I don't know, A GLOBAL PANDEMIC!- will affect your performance review at the end of the year. You set your prices, you decide when to raise them, and YOU FIND CLIENTS who understand the working mom life.
For the full scoop on these tips + more, watch the LIVE video training below!
You can also follow me on Instagram for my freelance tips + our day in the life series, where successful OTO alum take you behind the scenes of their freelance business every Wednesday!