As you know, the 7 legitimate work-from-home jobs for moms post is a popular one. So, I decided to make it a series where we take a closer look at the common jobs you can do as a stay-at-home mom looking for legitimate work-from-home jobs.
Today we are discussing virtual assistants!
If you are like I was a few short years ago, and you are looking for a legit job you can do from home while taking care of your babies- a virtual assistant is a GREAT way to get started! Especially if you're not 100% sure what you want to do/who you want to work with.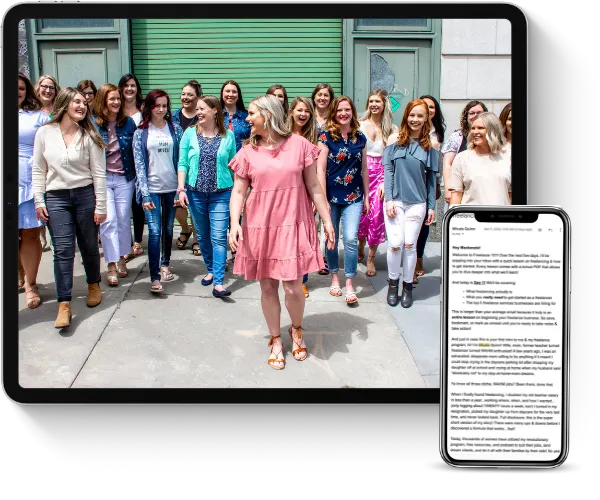 Learn how to earn $3K a month+ as a freelancer working less than 25 hours a week even if you think you have no experience.
This FREE crash course will teach you all about the freelance industry, so you can finally end the family vs. finances battle.
What Is a Virtual Assistant?
A virtual assistant is someone who provides services to businesses. They take on a variety of tasks that a business owner needs to outsource.
This role is similar to an office assistant position in an office, but you can do virtual assistance from home!
What Tasks Do Virtual Assistants Do for Clients?
VA's do administrative tasks like email inbox management, scheduling social posts, or updating the calendar.
For a product-based business, you might do customer-service-related tasks like responding to direct messages or assisting in Facebook groups.
Working as a VA, you are a doer. You are executing tasks that need to be accomplished. You are there to get stuff done.
Tasks you might do as a VA could include…
email management
customer service or management (replying to emails, organizing into folders)
social media (scheduling and creating graphics)
organizing Google drives
data entry
creating slides
This is NOT an all-inclusive list. If you want more information about virtual assisting read the FAQ: Virtual Assistant Jobs post for more information!
Who Can Become A Virtual Assistant
Anyone! You can become a virtual assistant if you are a problem-solver, organized, and especially if you are willing to learn as you go!
If you are newer to freelancing, starting as a virtual assistant is a great option for you. You don't need a ton of experience.
How to Get Started As a VA
So, how do you get started? Inside the Live Free Academy, you will learn how to start as a VA.
You will be contracted for a set amount of hours per month. Typically, you would form these into packages of hours ranging from 20-40 hours per month.
Your client will share the tasks they need help with on certain days, or by a set deadline. Then it is up to you to complete the assigned tasks by the deadline set and agreed upon.
One of the amazing benefits of working from home as a virtual assistant is that you work when it fits your schedule!
How to Gain Experience as a Virtual Assistant
Do not feel you need to shy away from starting as a VA with no experience!
If you are thinking about starting freelancing as a virtual assistant, know that there are a ton of people out there ready and willing to hire beginners.
When clients use my Hire Your Next Team Member form, they are asked if they are willing to work with a beginner. Sometimes a client wants someone who is an expert, however not everyone has the budget for an expert, so they hire beginners.
You can even gain experience right now, for free! By joining the Live Free Podcast Mastermind community and participating in the "Swap It Sunday" threads. There you can do testimonial work (free work in exchange for a testimonial).
Who is Hiring Virtual Assistants
All businesses need virtual assistant support! Every business (from local to fortune 500!) in every industry can and do use VAs.
Where Can I Find Virtual Assistant Jobs?
Are you wondering where you can find these plentiful, legitimate work-from-home jobs? A few common places to look when first starting out are job boards, Facebook groups (my favorite!), and cold-pitching.
Job Boards
Some businesses are dedicated solely to listing these remote positions for freelancers.
There are even specialized sites that focus on finding moms to fill these positions. For example, the Live Free Academy Hire Form connects business owners looking to hire freelancers to the talented LFA alumni.
You can follow me on Instagram to see each week I post job leads on my stories straight from the LFA Job Leads board. Want in on my exclusive job board?! Join the Live Free Academy for immediate access!
Facebook Groups
It's no secret that this is my absolute favorite way to find clients.
I have an entire section dedicated to it inside LFA! The module walks you through exactly how to go about finding clients by networking with other business owners and freelancers, and how to answer questions to gain authority in your niche.
Cold Pitching
Cold pitching can be super lucrative when landing new clients!
However, one thing I've learned from cold pitching is that you need to be prepared to hear "no" and bounce back from it.
If cold pitching has captured your interest, but you don't know where to start. I dive into strategies for cold pitching with former LFA student, Dalaina Knight, in Episode 18, of the Live Free Podcast, Student Spotlight: Tips and tricks to cold call to land the right freelance clients.
How Much Money Can You Make as a Virtual Assistant?
An entry-level virtual assistant just starting generally can charge anywhere between $25-30/hour. As you gain more experience and knowledge, you can charge more with each client you sign, and eventually charge up to $40/hour.
Looking to become a virtual assistant so that you can work from home? Download the free skills assessment to get started freelancing as a work at home virtual assistant!