You guys are loving my 7 legitimate work-from-home jobs for moms post so I'm going to make this a series! Giving you a deeper dive into common areas of freelancing that you can do all from home! Today we are discussing how to become a Pinterest Manager!
These jobs are plentiful, flexible, and pay a decent wage giving you all the benefits of working from home while raising your babies. Plus, you don't need any special training or degrees.
It sounds too good to be true, but I promise they are all real and legitimate work-from-home jobs! And if you want more information on them – keep reading!
How Does Pinterest Work?
I wanted to start with how Pinterest works because it's not a typical social media site like many people assume.
Like Google, Pinterest is a search engine. However, the difference is it uses images to drive searches to help users find results that are linked to other websites.
It has taken on the reputation of a social media platform but is more like a visual search engine.
Most people use it when they need recipe inspiration, summer activities to keep the kiddos engaged, or how-to-style built-in shelves. But many business owners are using it for growing their businesses, too!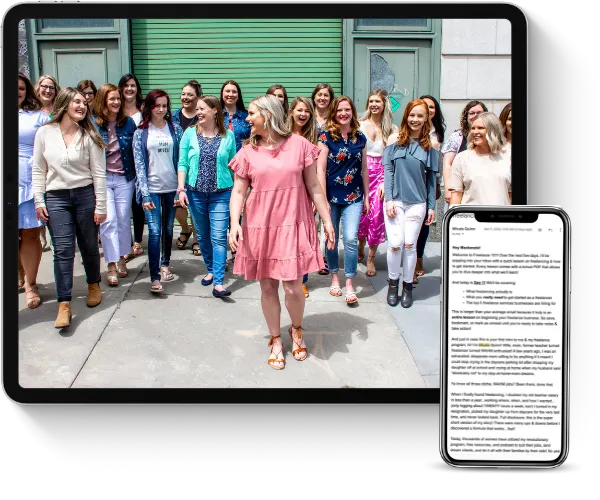 Learn how to earn $3K a month+ as a freelancer working less than 25 hours a week even if you think you have no experience.
This FREE crash course will teach you all about the freelance industry, so you can finally end the family vs. finances battle.
What Does a Pinterest Manager Do
What you may not know is that every pin you can click on Pinterest is linked to a Website of some sort, and in most cases, that Website belongs to a business that is monetized in some way.
So, business owners use Pinterest to drive traffic to their sites.
But Pinterest takes time. And that's why it's a service many business owners outsource so they can be hands-off on this.
A Pinterest manager typically sets up boards and actively pins to a client's Pinterest boards to drive traffic from Pinterest to the client's Website.
To be successful on Pinterest, you need a strategy. Sometimes, just like in a social media manager role, the business owner provides the strategy for you to implement with an SOP of tasks for you to do daily, weekly, and monthly.
If an SOP is provided, most business owners will ask a virtual assistant to come in and execute. But other times, they don't have a strategy or even know they need a Pinterest strategy to manage and grow their accounts! And that's when a Pinterest manager is vital to the success of a business.
Common Tasks
Create pins for all the new content a business produces to link back to the business website
Design graphics in Canva
Add keyword-rich descriptions
Schedule out and post pins
Manage pinning old content to drive traffic back to older posts to keep them relevant
Pin other people's quality content
Provide a report with what content should be used moving forward, what's resonating, etc.
Great Pinterest managers are always up-to-date on the best practices and learning and implementing new tools and resources Pinterest offers.
Who Hires Pinterest Managers
Businesses that sell done-for-you services like interior decoration or home organization, even home contractors!
Businesses that sell digital courses (like me!)
And any businesses that have physical products.
This isn't an exhaustive list of all the businesses that use Pinterest, there are thousands, but you get the idea!
How to Get Started Offering Pinterest as a Service
If you are creative, interested in Pinterest in your personal life, and interested in the art and science behind growing a Pinterest account you would be great at Pinterest management.
Experience
You don't need any! You don't need to know a ton about Pinterest strategy to get started, you can learn this as you go.
There is room for beginner and expert Pinterest managers in this space because not everyone has a budget for expert managers. Some business owners just need someone to come in and help them manage the strategy and implement the tasks.
How can you get started, learn, and get Pinterest experience?
By practicing and applying! Read up on blogs about Pinterest's best strategies, there are tons of blogs out there dedicated to creating content about Pinterest and how it works.
Find training and guides from Pinterest on the resources tab to teach you exactly how to use their platform, best practices, and even predictions.
And in my course, Live Free Academy, we include skills training in the top services that businesses are hiring for right now, and we cover how to do the things that Pinterest managers do!
Tools You Need to Become a Pinterest Manager
The common platforms you need to become a Pinterest manager will vary for each person, but everyone needs these common tools in their tool belt.
Canva – So you can design visually beautiful, on-brand Pins for your client (remember Pinterest is a visual search engine).
Quality Stock Photos – you may or may not already have a favorite site for stock photos, but this is key for creating visually appealing pins, and many you can use for free!
Tailwind – Use scheduling software, if your client doesn't already, for easy scheduling and posting Pins.
Trello – Helps with project organization to keep all the pieces of managing each project organized and moving.
How Much Do Pinterest Managers Make?
Starting as a Pinterest manager you can charge around $25/per hour and increase it to $35+ with more expertise, results, and experience you gain!