I get it—you're a mom first and foremost. But you also want to work or need to work to support your family. I felt the same way, and I was lost until I discovered the world of freelancing.
Let me tell you about a legitimate work-from-home job perfect for moms–social media management. These jobs are plentiful if you know where to look for them. They are flexible: you can work them around your schedule and in your favorite yoga pants from home. They pay a decent wage and you do not need any special training or degrees to do most of them!
I know this sounds too good to be true, but I swear it's an option. There is this whole freelance world of mamas who are crushing it in work-at-home jobs, and you can join them!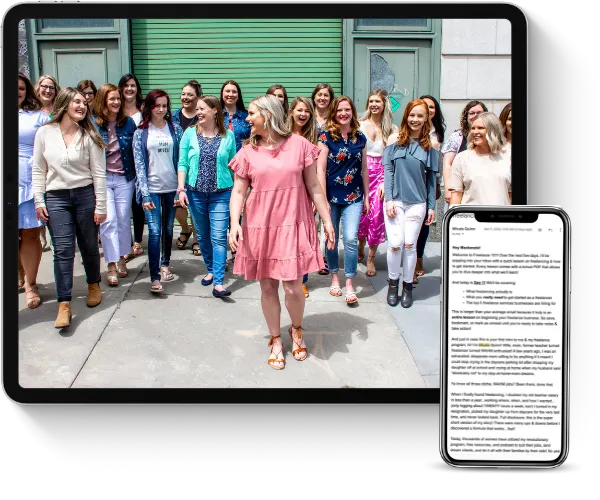 Learn how to earn $3K a month+ as a freelancer working less than 25 hours a week even if you think you have no experience.
This FREE crash course will teach you all about the freelance industry, so you can finally end the family vs. finances battle.
Work From Home Jobs
Typically, working from home jobs can be done remotely (from your home) rather than in an office setting. And are independent contractor roles. If you search for "work from home" jobs you will find results about freelance jobs.
Freelancers are independent contractors that offer a specific service based on the knowledge and skills they bring to a business owner. Freelancers work under self-employment allowing them to sell their services on a contract or project basis.
For more on what freelancing is and other common questions about freelancing work check out the FAQ: What is Freelancing blog post here!
Pros and Cons of Freelancing as a Social Media Manager
Pros: As a freelancer, you get to control the variables like where you work, when you work, and how much you make. This makes freelancing an obvious choice for stay-at-home moms looking for legitimate work-from-home jobs.
Cons: Experience does not always equal higher pay. (If you don't have the results to back it up!) When you're ready to scale or increase your rates, you will need to have proven results. Demonstrate results using analytics or successful product launches to show clients how you helped them reach their goals, and prove your value to their business.
What is a Social Media Manager
Social media managers help their clients to promote their business on social media. To do this they will plan and schedule social media posts or ads on a variety of platforms like Facebook, Instagram, and TikTok.
The Social Media Manager (SMM) may create graphics and write captions, or simply add content to a scheduling platform. A scheduling platform, see this list of 16 popular options, houses, and plans out content for social media.  Making it easy to plan and batch content weeks in advance. They will also sometimes deliver monthly reports on the growth, success, and opportunities for improvement of the account.
SMMs don't only plan and create graphics for social media, though. They can also help their clients manage Facebook groups by engaging with the audience in the comments and direct messages.
What Training and Experience Do You Need to be a Social Media Manager?
No specific training is required to be a social media manager. You do not need a marketing degree to be a social media manager. Clients do NOT care or usually even ask about degrees, they care about results.
However, if you are willing to invest in your business with training, you can specialize and grow your business. For example, you can specialize in strategy or ads.
If you are looking for training to help you specialize, check out the Masters of Business section of the Live Free Academy program.
Social Media Managers Vs. Social Media Strategists
As we discussed earlier a social media manager plans, creates, engages, and reports on the analytics of content for social media accounts.
Strategy for social media is a whole separate entity, though. A social media strategist creates a strategy for the content by defining the most important KPIs and designing strategies around them.
Sometimes the social media manager and strategist can be the same person, and other times it's two separate people. However, one common issue for freelancers is that the role is not clearly defined and expectations become blurred. Creating confusion for both the client and the freelancer. So, when offering social media management to clients, one question to ask is if the potential client already has a strategy in place that they want to be implemented?
If a potential client has no strategy in place, that gives you the first step in identifying what the potential client needs. And how you can start working with them to meet their needs.
Salary is an identifier for the two positions as well. A social media manager averages $25-35/hour, while a social media strategist averages around $35-45/hour.
Who Hires Social Media Media Managers?
Everyone! Every business needs an online social media presence. Period. End of story. If you are not seeing a business on social media, then there is an opportunity for you to establish that presence for them.
Business owners that already have social media established, may need help maintaining and managing that strategy monthly.
Does this information have you excited about becoming a social media manager? But you are wondering how to start finding clients, or how to get a freelance business started. Check out the free Launch Fast Crash Course How to Get Started Freelancing to get started today!
Or you can listen to the Live Free Podcast: How to become a social media manager for more in-depth information on social media management.