There is no doubt that the world of podcasting has exploded in the past few years. In every category-business, crime, non-fiction, history, comedy, etc. You name it and there is likely a podcast for it.
And it's no wonder that podcast management has also exploded. Podcast management is a great service that freelancing moms looking for legitimate work-from-home jobs can do for busy podcast hosts. Because running a podcast takes a lot of time. From strategizing each episode, planning each show and guests, to all the behind-the-scenes work that goes into producing it. There's a lot a podcast host can and does need help with to produce and run a podcast.
So, if you love podcasts and are looking for a way to stay home and make money, then stick around. Because today we are going to break down the role of a podcast manager and how you can offer these services to businesses that will pay you to help manage their podcast production!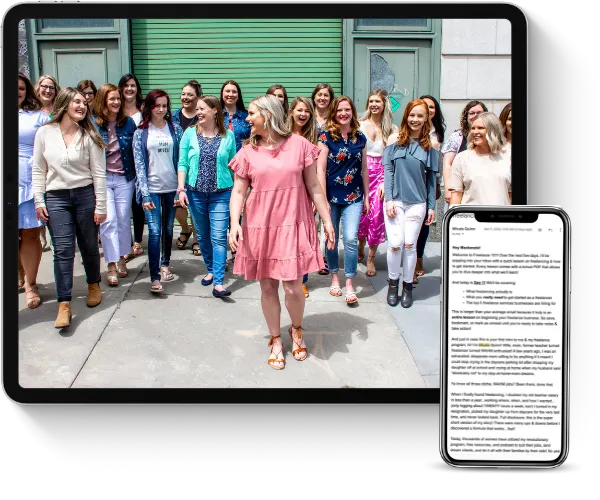 Learn how to earn $3K a month+ as a freelancer working less than 25 hours a week even if you think you have no experience.
This FREE crash course will teach you all about the freelance industry, so you can finally end the family vs. finances battle.
What is a Podcast Manager?
A podcast manager keeps a business's podcast running by editing podcasts, publishing episodes to hosting sites, writing show notes, promoting the show, and promoting the podcast host as a podcast guest.
6 Services a Podcast Manager Offers
Editing
Normalizing the volume, editing out silence, taking out verbal mistakes, and reducing background noise are all part of the editing process. This part of the process can be time-consuming!
Guest Management
Strategizing great guests that the podcast audience will be excited to hear from. Helping to get the podcast host on another show as a guest. You will strategize by researching, pitching, then helping to schedule the interviews.
Copy Editor
Most podcast hosts have some sort of copy written or an outline of the direction they want each show to head. Copy editors help with transcribing descriptions of the show to pair with the audio.
Uploading
Each episode needs to be uploaded to a hosting platform before putting it on platforms like Apple or Stitcher for listening. (I use Libsyn for hosting the Live Free Podcast!) The audio files, a short description, and show art are all uploaded every time there is a new episode.
Social Media
Using sites like Canva to make graphics for the show, then marketing it on social media platforms.
Audiographics
Editors pull out pieces of the podcast and match an audio stream to that snippet of the podcast. Then the editor creates a graphic and makes the entire audiographic shareable on social media to market the show.
Other roles a podcast manager may help with…
Starting a podcast
Setting up an RSS feed
Prepping copy or writing interview questions.
Recording the show
Strategizing ideas for new shows
All these roles take a lot of time and skill, so many podcast hosts look to outsource some or all of these roles to an editor or podcast manager.
A Day in the Life of a Podcast Manager
In Episode 181: How to become a podcast manager with Lauren Wrighton of the Live Free Podcast, Lauren discusses what a day in the life of a podcast manager looks like, how to get started as a podcast manager, and what she did in her first few years as a podcast manager.
Inside the episode, Lauren shared a little bit about the daily life in her business and how she works with each client.
"They give me the audio and I do the rest. And the rest looks different for every client. So, for some clients, I edit and publish the episode. Whereas, on the other end of the spectrum, I will edit, publish show notes, create social media graphics, create graphics with the audio wave over them, and book guests. So the range of services is crazy!"
If you want to hear more about how Lauren got started and what she does as a podcast manager, you can listen to the episode here!
How to Start as a Podcast Manager
Anyone with a podcast may need help managing their podcast!
It takes a lot of time and skill to edit all the pieces, strategize new shows, come up with copy, and find great guests to speak on each show.
That creates an opportunity for you to assist in managing some or all of these tasks for them.
The Training and Experience You Need
No specific training or degree is required to be a podcast manager!
You can start learning the ins and out of podcasting by practicing and applying; by reading up on blogs about podcasting strategies. There are tons of blogs out there dedicated to helping hosts create podcasts because this field is so extremely popular right now!
If you are moderately comfortable with technology or willing to learn, you can learn the skills required to do this job. Plus, YouTube videos can teach you what you need to know to help a podcast host with managing their podcast.
You can also find training and guides from hosting sites and free editing tools that teach you exactly how to use a platform.
And in the Live Free Academy Masters of Business course, I include skills training in the top services that businesses are hiring for right now, including podcast editing.
How Much Money Can You Make as a Podcast Manager?
As a podcast manager, you can begin charging $30 per hour. As you gain experience, you can ask for more, eventually charging up to $40+/hour.
Does this information have you excited about podcast management? BUT still wondering about how to find clients or start a freelance business? Download the free Launch Fast Crash Course How to Get Started Freelancing to get started today!