Are you still looking for a legitimate job where you can work from home? Working as an Online Business Manager pays $75-$100 per hour, and you can do it completely from home.
Sounds too good to be true? It's not, though, I promise!
It's a legit option for you if you are looking to work from home during naptime and want to be there for every moment of your babies' lives.
If you naturally think about the steps it will take to achieve a goal, you may have what it takes to become an Online Business Manager. Read on to find out what exactly they do, and what you need to know to start today as an online business manager!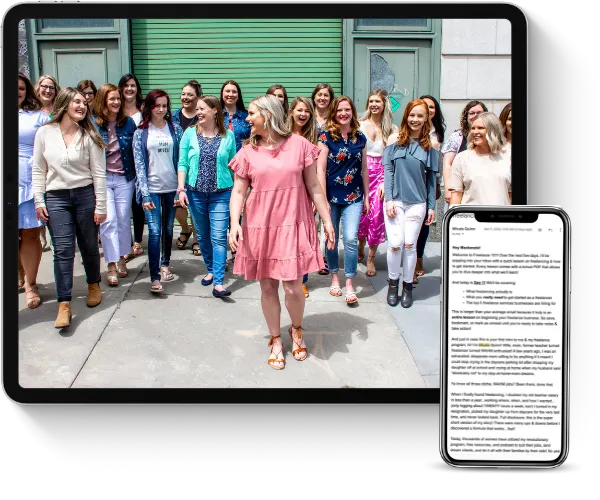 Learn how to earn $3K a month+ as a freelancer working less than 25 hours a week even if you think you have no experience.
This FREE crash course will teach you all about the freelance industry, so you can finally end the family vs. finances battle.
What is an Online Business Manager
An online business manager helps a business owner manage and grow their company. The online business manager (OBM) is a strategist and a planner, not as much of a doer.
An OBM works directly with the business owner to take their vision and goals and set a plan to make it happen. They oversee the day-to-day activities of a business to help keep it running smoothly.
The Tasks an OBM oversees…
Hiring the right support
Leading team members
Managing the timeline
Planning and managing projects
Organizing and creating operational systems and

SOPs

Managing and streamlining operating systems
4 Areas an OBM Manages
Projects – Like managing a product launch, course launch, or website launch. This could also be projects like website updates or creating new revenue streams. OBMs will help manage these projects by laying out plans and seeing them through completion.
Operations – creating and automating processes for the day-to-day activities of the business. This could include SOPs for things like billing/invoicing or communication with customers.
Metrics – Analytics are key for measuring the growth of a business. An OBM will help with accessing and tracking these metrics to see what is working and what is not working. Then use them for strategizing plans to keep the business growing.
People – Behind every growing business is a team of people dedicated to helping it run smoothly. The OBM will manage the team and their needs. Whether that is outsourcing or assigning tasks that keep the business running day-to-day.
The Difference Between an OBM and a VA
In the world of freelancing, virtual assistants (VA) and OBMs are often confused with one another. The roles are similar, but the main difference in distinguishing between the two positions is managing versus doing.
As you may remember this blog about becoming a virtual assistant, I talk about the role of a VA.
Working as a VA, you are a doer. You are helping the business owner get the day-to-day tasks accomplished. As a VA, you are focusing more on completing your own tasks, managing your own time effectively when accomplishing tasks, and communicating with other team members only when needed.
As an OBM, you are managing all the pieces and organizing the tasks that the team (VAs, social media managers, podcast managers, etc.) is doing. Making sure that everyone is completing their tasks on time, planning and looking ahead at what is being accomplished, and being the main communicator on the team ensuring everyone has what they need (resources, SOPs, etc.).
For my team, this looks like assigning tasks in Trello, and tracking how they are moving between team members by the due date. Recording and sending out training videos with my SOPs. Answering technical questions from team members. And working closely with me to strategize what new and exciting things are coming up!
The Skills, Experience, and Training You Need
With each of the jobs from the 7 Legitimate Work From Home Jobs For Moms blog, you don't need experience to start.
A lot of OBMs will have VA, executive assistant, or project management experience from previous jobs. However, you do NOT need prior experience in these areas to become an OBM.
Skills
If you naturally think about the steps it will take to accomplish tasks. Like working with processes, and like streamlining or creating procedures. And you tend to see things in the big picture you have the skills it takes to be a great OBM.
Experience
As I said, you don't need prior experience to become an OBM. However, some previous experience working with the operations of a business will help you when getting started as an OBM. A lot of virtual assistants transition or pivot their business into OBM services after gaining some experience.
Training
If you are looking to pivot your VA business to providing OBM services, start looking at OBM certifications. These certifications help you learn how to become and operate as an OBM for online businesses.
OR if you are looking to launch your own business but don't know what skills you have, download the free Skills Assessment Crash Course. It will help you in figuring out exactly what services you can offer that business owners are willing to pay you for!
How much can you earn as an OBM
When just starting to work as an OBM, you could charge $75 per hour, and with some experience could end up charging $100+ per hour.
Are you ready to start your own work-from-home business?
You can get started freelancing today by downloading the free skills assessment here!