Did you know? Legitimate work-from-home jobs do exist!
Are you trying to figure out how you can work from home while you're watching your babies?
Just a few years ago, I was in your shoes. Then I found freelancing and tripled my teacher salary, and now I teach women just like you how to freelance with the Live Free Academy training!
I wrote this blog post a while back, and it's quickly growing in popularity. So, I made it a series where we look more closely at the jobs you can do as a stay-at-home mom looking for legitimate work-from-home jobs.
So stick around if you want to know more about being a graphic designer and how you can do it from home while making money.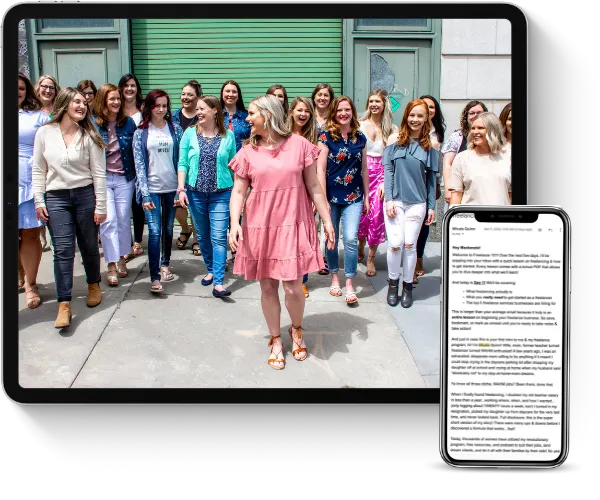 Learn how to earn $3K a month+ as a freelancer working less than 25 hours a week even if you think you have no experience.
This FREE crash course will teach you all about the freelance industry, so you can finally end the family vs. finances battle.
What is a Graphic Designer
A graphic designer strategically combines design elements to communicate ideas and information through visual concepts. They design aesthetically appealing layouts, advertisements, logos, and more to captivate audiences.
What Does a Graphic Designer Do?
Services a graphic designer can offer are:
logos and branding design with colors and fonts, etc.
print and advertising (fliers, brochures, etc.)
workbooks
social media graphics
website graphics
apparel and merchandise
UX/UI design (design of tools and apps of user interfaces)
packaging design
digital illustration and animation
Pros and Cons of Graphic Design
As with every job, there will be pros and cons to balance.
Pros
You get to be creative.
As discussed above, there are a ton of different roles you can do as a graphic designer.
There are a lot of opportunities to freelance as a designer, allowing you to work from home on your schedule.
Cons
You have to meet specific client deadlines.
You have to design work to your client's expectations, which may not always be how you want your work to look.
Who Can Become a Graphic Designer?
You don't need a degree to become a designer. However, with that being said, a degree and/or design experience is going to dramatically increase your pay scale.
If you want to learn more about becoming a graphic designer and how other moms are working-from-home doing graphic design for clients, listen to this episode of the Live Free Podcast. It will inspire and motivate you to start your own graphic design business!
What Training and Experience Do you Need?
So, how do you get started? Inside the Live Free Academy, you will learn how to start as a freelancer. My program will help you to set up your business from the legal side to branding to mapping out your ideal client. Once you have the foundation of your business in place, it's up to you how you want to start up-leveling your skills and gaining experience with graphic design. There are bonus skill-specific trainings built into the program, and you can gain experience by following my suggestions below.
How to Gain Experience
Do not feel like you need to shy away from starting as a graphic designer with no experience!
If you are thinking about freelancing, know that there are a ton of people out there ready and willing to hire beginners. Sometimes a client wants someone who is an expert, however not everyone has the budget for an expert, so they hire beginners.
That is where you are going to get experience. Just remember, everyone has to begin somewhere!
And if you want experience right now, join the Live Free Podcast Mastermind community on Facebook. Participate in the 'Swap It Sunday' threads. You can do testimonial work (free work in exchange for a testimonial) to gain experience before you get a paying client.
Useful Tools and Resources for Graphic Designers
COLOURlovers – an online community where people share trending colors, pallets, and patterns for the designs they are loving and/or are currently working on.
Canva – Photo editing, animation, and design tool to help you create visually beautiful, on-brand designs for your client. There are tons of different templates to help you get started and draw inspiration from.
Quality Stock Photos – finding quality stock photos is key for creating visually appealing designs, especially in advertising.
Trello – Helps with project organization to keep all the pieces of managing each project organized and moving.
Adobe Creative Cloud – Adobe has a range of packages and software, like illustrator, photoshop, and InDesign. These programs are fairly robust, and a designer's dream when looking for editing tools. They can get pricey though.
Who Hires Graphic Designers?
So, who needs a graphic designer? Who is hiring for these creative jobs? All businesses need some kind of graphic design.
Internet and software development, TV and video production, branding, packaging, advertising, e-commerce, businesses that sell courses (like me), and that's just a few.
Almost all companies at some point need graphic design.
If a company wants to reach its target audience, it will spend time and money strategizing how to be visually appealing. You might work closely with the marketing department in a larger organization or with the CEO of a small business to help design a look and feel that resonates.
How Much Money Can You Make as a Graphic Designer?
An entry-level graphic designer generally can charge around $30/hour.
As I mentioned before, experience dramatically increases your pay scale. As you gain experience and material for your portfolio, you will be able to ask for more per hour. Eventually, you could charge up to $40+/hour.
Looking to become a virtual assistant so that you can work from home and be home with your babies? Download the free skills assessment start freelancing as a graphic designer from home today!