This post about podcast for work at home moms, may contain affiliate links, which means if you click one of our affiliate links and decide to make a purchase, we receive a tiny commision from the seller at no additional cost to you. We only share products and services we have used, tested, and love ourselves!
Episode 01: Show Notes
I am so excited to share the Live Free, Mama Podcast with you! This podcast is for work at home moms or moms who want to work from home!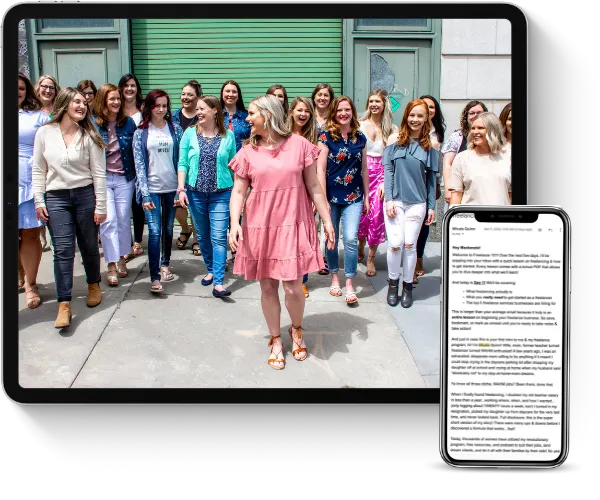 Learn how to earn $3K a month+ as a freelancer working less than 25 hours a week even if you think you have no experience.
This FREE crash course will teach you all about the freelance industry, so you can finally end the family vs. finances battle.
I have big dreams for myself, my family, my business, and for YOU, and hope this podcast will give you the tools and strategies you need to accomplish your dreams and live a life love!
Listen to it below!
In this first episode, I wanted to take some time to share with you a little bit more about:
Who I am
How I got started freelancing
What my business journey looked like
Why I decided to pivot away from freelancing to teaching moms how to become freelancers
What Live Free, Mama is all about
What you can expect from the podcast in the future
If you've ever wanted to know how I got to where I am… from teacher to freelancer to online business owner, this episode shares that journey with you!
But, let's face it… this episode may sound kind of boring… but here's why it's not!
So many of the inspirational women figures you hear from are lightyears ahead of where you and I are right now.
Yes maybe their business got started in their home too or even started as a side hustle, but now they are multi-Millionaires and out of this world successful.
It's inspirational, of course! But it also seems out of reach (at least for me).
So I hope that my boring story of a regular mom, who is maybe just a few steps ahead of where you are, helps to show you just how possible and attainable your dreams really are!
If you are excited about this podcast too, and enjoy what we are all about, I would love if you could help me share it with the world!
We are hosting an epic work at home mom giveaway this month, our way of saying thank you to all of our supporters and sharers out there!
You can check out the giveaway and enter here!
But we just announced (in this episode) TWO exciting things!
One specific way you can earn 100 entries into the giveaway is by subscribing to the show and leaving a review!
Now if you leave a review, take a screenshot, and send us an email over to hello@ micalaquinn.com… this is worth 100 entries in our giveaway. Yes. 100.
Why? Because reviews are so powerful (I hear) in the iTunes algorithm and is one of the BIGGEST ways you can help me show iTunes that this is a podcast worth listening to… and then they will show it to more moms! And just imagine how awesome the world will be when more and more moms are taking action to create a life they love and living empowered lives where they can mom strong, work smart, and live free!
And the second exciting thing we did, was add on to our giveaway!
The addition to the giveaway… is… either our Overwhelmed to Overbooked Program or 4 1:1 strategy session calls with me! Whether you've purchased my course yet, or not, this addition can really help you skyrocket your freelance business! I always hop off 1:1 calls super excited and pumped for the mom on the other end, and I know she walks away with the confidence and the know how to conquer her next steps!
So to recap! For 100 entries, leave a review on iTunes, SCREEN shot it and send it to us at hello@ micalaquinn . com, and we will manually add your 100 entries to our giveaway system!!
Thank you, thank you, thank you!
We've got two other episodes that went live today, so be sure to check those out as well!
Links and resources mentioned in the episode: