What work at home jobs for teachers are there? What can you do if you are fed up with teaching and looking for a change?
I know you've googled it because you landed here on this page searching for other options. I totally understand because I was once there too. After my firstborn came, I knew I had to find something that allowed me to be home with her.
But I needed to work and needed an income. I needed to find something that would allow me to work at home and on a flexible schedule.
Was this even possible? I knew about the obvious options like joining an MLM. And I almost did. I knew I would hate that even more though.
So I kept searching for work at home jobs for teachers, and finally, somehow I stumbled upon this secret world of freelancing.
When I stumbled upon freelancing, almost no one knew about it. Why? I'm not sure, but I'm working to get the word out. It's an amazing option for anyone looking to work from home on a flexible schedule!
Now I'm on a mission to get the word out about freelancing and work at home jobs for teachers who want other options!
Work at Home Jobs for Teachers
These jobs are easy jobs you can do with no experience. (Although you may have experience just from teaching!)
1. Virtual Assistant
Virtual assistants help business owners with tasks that can be outsourced. These are generally tasks that don't need direct input from the owner and are often administrative-related. These can include but are not limited to, email management, customer service, bookkeeping, scheduling, etc. Plus, as a virtual assistant, the starting hourly rate is $25-35/hour.
2. Social media manager
As a social media manager, you could be planning and scheduling content on multiple social media platforms. Often these tasks are planning monthly content, creating graphics, writing copy for social media posts, engaging in the comments and DMs, and managing Facebook groups. The starting hourly rate for a social media manager is $25-35/hour.
3. Pinterest manager
Starting as a Pinterest manager is easy if you are familiar with Pinterest or willing to watch a few tutorials on the web. Generally, Pinterest manager tasks include creating a business account on the platform, creating boards, creating graphics for Pins, writing copy for pins, and scheduling/posting pins. This position starts at $25-35/ hour.
4. Copywriter
As a copywriter, you could be writing blogs, email newsletters, social media captions, website copy, ebooks, and more. No degree is required to be a copywriter, this one is more results-driven–think charging higher rates with a track record of increasing sales through your copy! The typical pay rate for a beginner copywriter is $30-40/ hour and increases depending on your level of experience, your client, and what results you can produce.
5. Graphic designer
As a graphic designer, you may be designing logos, workbooks, graphics for social media, graphics for websites, graphics for ads, and more. A degree is not required, but some knowledge of basic graphic design elements, and branding will help. The starting pay rate for a graphic designer is $30-40/hour and will increase with experience and tech knowledge.
6. Podcast manager
Podcasts are all the rage right now, it's a great way to reach your audience as a small business owner. You can work as a podcast manager helping business owners record, edit and produce podcast episodes. To work as a podcast manager you could be writing podcast copy, editing podcast recordings, publishing episodes to a host website, writing show notes, and guest outreach. The starting pay for a podcast manager is $30-40/hour.
There you have it, 6 no experience work at home jobs for teachers who are looking for something else.
Is this a real thing?
It's real, I promise!
Now, there are people out there who do run scams to prey on desperate moms wanting to work from home. But I have a blog post about how to spot scammers and avoid scams as a freelancer. I also teach this in The Live Free Academy course so you can spot scams a mile away!
Freelancing is not a scam, and there are endless opportunities out there for women who want to work at home and do it on their schedule.
Thanks to the internet and social media, small businesses are growing and online businesses are budding. However, all businesses take a lot of time to run. So business owners hire freelancers to help run their business because they either don't have the skills, time, or desire to run that part of their business.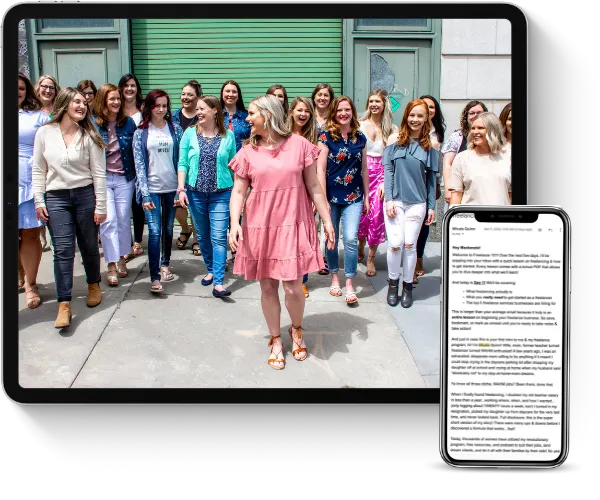 Learn how to earn $3K a month+ as a freelancer working less than 25 hours a week even if you think you have no experience.
This FREE crash course will teach you all about the freelance industry, so you can finally end the family vs. finances battle.
How Do I Find Work at Home Jobs for Teachers?
Work-at-home jobs are plentiful, I believe there is a work at home job for everyone! You just need to learn where to look.
First, you'll need to set up your business. Create a name, what services you will offer, pricing, and who you want to work with. You can find a checklist for starting a business here!
Or if you just want to learn more about freelancing head to the free resources section of MicalaQuinn.com. I suggest starting with the Launch Fast Crash Course, which will teach you the basics of freelancing.
Routes to land freelance clients
Finding work from home jobs are plentiful, you just need to know where to look. Here is a quick rundown of where to look to find clients.
Facebook groups:
My favorite way to land clients, and how most women in the LFA course find their clients. On Facebook, there is a group for just about everything, every type of client and every industry. Join the conversation in these groups in the posts and comments sections to make connections and show your expertise.
Personal network:
Make a list of your personal connections that are well-connected or business owners, and reach out to them. Explain that you are starting a business, and what services you can help with, then ask for them to keep you in mind.
Direct outreach:
Make a list of businesses either online or local to you, find a need you can help them with, then reach out to them in person or through email to pitch your services.
Online job boards:
When you sign up for the LFA course you get access to the LFA job leads board, but there are others out there you can use too. These are similar to the traditional route of finding jobs, where a business owner will post a job and you respond.
Current employer:
Some LFA students have found success in asking their current employer about staying on as a freelancer.
Marketing on social media:
I suggest this route when you are more established, but once you are then you can build up your social media accounts to find clients.
Referrals:
Once you have a good working relationship with a client they will be likely to refer you to others.
How Do I Get Started in a Work at Home Job?
First, go to MicalaQuinn.com/freeresources to get all the freebies to learn more about freelancing, work at home jobs for teachers.
With these resources, you can learn what services you can offer, more about pricing and package, and how you can make this lifestyle work for you!
Then check out The Live Free Academy, the coaching program that will teach you all you need to know about starting a business working from home. When you sign up you get outreach templates, step-by-step training, coaching calls, challenges, and daily job leads to build a successful work at home business!