Are you considering freelancing? Hesitant whether you should or shouldn't try it? Becoming a virtual manager has a lot of benefits for working from home moms. You can be home with your babies, provide an income, and you can have a balance between work and home life. By becoming a virtual manager you have flexibility in your work in many different ways. Read on to learn what a virtual manager does and the benefits of freelancing as a virtual manager.
What is a Virtual Manager?
A virtual manager supports a team online and oversees the day-to-day management of projects and the operation of an online business. A virtual manager works remotely to help manage standard operating processes, team members, due dates, and other daily operational activities.
This role could consist of many different tasks like bookkeeping, scheduling, creating standard operating procedures, updating tasks, and assigning tasks to team members.
4 Virtual Manager Benefits
There are a lot of reasons to become a virtual manager. It can give you the freedom to choose what tasks and roles you take on, what clients you work with, build up your skill sets, and when to raise your rates.
1. Chose the Roles You Take On
Working from home moms take on a lot of roles in the household: caretaker, maid, cook, chauffeur, accountant, and more! As a virtual manager, you can choose what roles you take on. Some business owners might be looking for project management only, having no other team members to oversee. Or they might need everything from project management to creating operating procedures to assigning tasks to team members.
You can choose which projects you want to work on by pitching your services to the business owner offering the parts of the project you can do, or keep looking for other projects that fit your services and skills better. There is no shortage of freelance jobs out there!
2. Determine Your Working Hours
Virtual management offers a lot of flexibility in terms of where and when you work. As long as you have an internet connection, you can work from your home office, in the park, or the doctor's office. Freelance virtual management jobs can be done from your laptop or phone making it easy to work from where ever you choose!
And it offers flexibility in when you work. If you chose to work when your kids are sleeping, that could be waking up a little earlier in the morning to work 2 hours, then 2 hours at nap time, and 2 hours after they go to bed at night. That's an easy 6 hours a day! The best part is if you don't want to get up early to work, then don't. Fit a couple of hours in when it works for you and your family. Finding 4 hours a day, 5 days a week adds up to 20 hours available for work.
3. Build Up Your Skill Sets
Do you get bored at your current office job doing the same tasks over and over again? Working as a virtual manager with a couple (or many) different clients creates the opportunity to work on many different tasks. It gives you variety that a full-time office job doesn't always provide. You can take on new challenges and tasks outside of your comfort zone. Which will give you experience and confidence with new skill sets. You can use that experience to offer those services to new clients you choose to work with. With freelancing as a virtual manager there's always room to grow!
4. You Pick When to Raise Your Rates and Earn More Money
When you first start freelancing you might be offering beginner rates. For a virtual manager that would be around $30 an hour per hour. However, as you take on more projects, training, and gain new skills you can raise your rates. Rates for more experienced virtual managers can be upwards of $60 per hour. And you can always make more depending on your project prices and the results you can give to your clients.
With each client, you'll be able to raise your rates because you have expanded your skillset. And if you've obtained training or certification, raise your rates! With freelancing as a virtual manager you choose when to raise your rates as compared to a traditional job where you have to wait for a yearly 3% raise.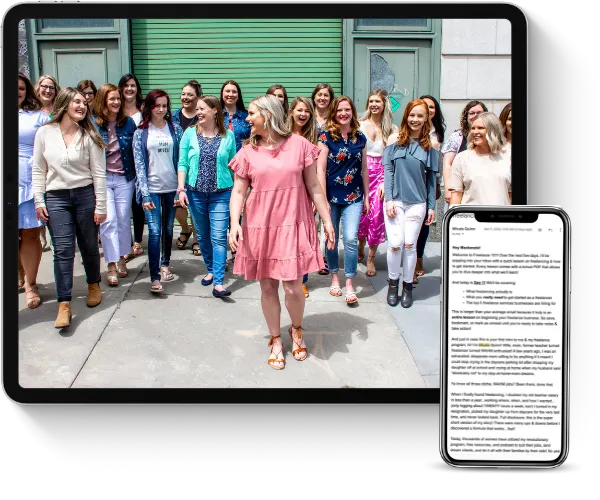 Learn how to earn $3K a month+ as a freelancer working less than 25 hours a week even if you think you have no experience.
This FREE crash course will teach you all about the freelance industry, so you can finally end the family vs. finances battle.
Skills Every Virtual Manager Needs
Ability to Take on Multiple Roles
As with any manager, a virtual manager may do a lot of different roles or perform a variety of tasks. This helps keep the business running from day to day. Keeps the team focused on the tasks they are working on. And allows the business owner to focus on other parts of the business.
Those roles could range from…
Administrative support
Office supply management
Time management
Project management
Ability to Communicate Effectively
Communicating with other team members and the business owner is essential. Without communication it can affect your ability to effectively delegate, coach, evaluate, and lead. And eventually, tasks could fall to the wayside.
To effectively communicate, think about how you will communicate. There are many virtual platforms dedicated to facilitating communication between online teams. Whether it is via a phone call, instant messaging, or email. Think about what you need to communicate and with whom. Be direct. Finally, practice.
Ability to Delegate
Delegation is assigning specific tasks to team members who are more capable of completing those tasks. Which creates more time for tasks the business owner needs to complete that can't be delegated. Like cultivating business relationships or bringing on new clients.
To effectively delegate you must…
Clearly explain the assignment for all participants.
Check for clarity and questions.
Create checkpoints to ensure the project is on the course (without micromanaging).
Summarize the assignment to ensure all participants have a clear understanding of the project goals, how to overcome contingencies, and create checkpoints.
Have you heard enough about virtual management? Are you ready to jump in and start your freelance business today? The Live Free Academy course gives you all you need to start your work-from-home business giving you the freedom and flexibility of the work-life balance that you have been craving. The LFA course helps you choose services you can offer, niching, pricing your services, ow you will find clients, and more!