Freelancing was the answer to my stay-at-home-mom dreams. Without it, I would have never been able to both make the income our family needed and stay home with my babies.
But it didn't come without failure. My virtual assistant business wasn't the first business I started. I tried a few others before I found freelancing. (A hairbow and a baking business).
After trying to make it as a stay-at-home mom and bow-maker/baker didn't work out, I was feeling like nothing would work.
I kept searching and stumbled upon freelancing. I learned all about what jobs a virtual assistant does + all the benefits from working from home on my terms.
Freelancing is the best solution for moms wanting to work from home, because of the flexibility to work when you want, choose who you work with, and how much money you want to make.
If you want to learn more about what a virtual assistant does check out this blog where I cover what a virtual assistant is and other common questions I get about freelancing as a virtual assistant.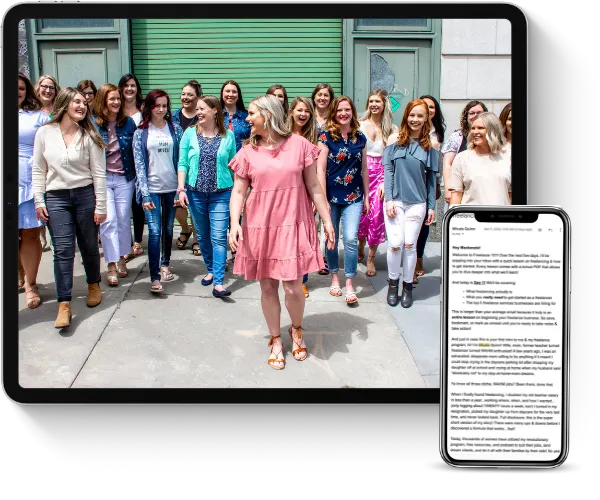 Learn how to earn $3K a month+ as a freelancer working less than 25 hours a week even if you think you have no experience.
This FREE crash course will teach you all about the freelance industry, so you can finally end the family vs. finances battle.
You Are Your Own Boss
I often hear from Live Free Academy students that there is a huge difference when working from home as a full-time employee versus working from home as a freelancer.
When working from home as a full-time employee there is pressure to be online by 8 am, to be at your desk, and always available for any questions or pings the moment they come up.
As a freelancing mom, working from home is way more flexible. If you want to take your kids to the park you can go without worrying how long you are gone. There is no worrying about what you are missing while you are away from the computer. And there is no wondering what fires you are coming back to.
With freelancing, I wasn't tied to a classroom or desk all day. I could run my business from the park, pediatrician's office, or the playroom. I was home playing with my babies during the day. All while not spending money on daycare. Then working during naptime or after they went to bed.
You Work When You Want
As a virtual assistant, you are taking over administrative or customer-service tasks that are necessary to run a successful business.
These are usually recurring tasks that need to get done, but take up a lot of time. So you come in to help with these as needed.
It is the client's job to tell you what tasks they need to be completed as well as set expectations and deadlines. And it's your job to execute the tasks by the deadline and perform to those expectations. and by what deadline they want them done.
Once you have clear expectations and deadlines- it's your turn to choose! You decide when, where, and how you work! That could be during the early morning hours before your kids are awake for the day. Or that could mean doing the naptime hustle working a few hours a day in the afternoon.
As long are you are completing tasks and staying on deadline, your clients do not care how you set up your schedule or execute.
You have the freedom to communicate when you will have expected tasks completed, and how much notice you will need for unexpected tasks. The options are endless when working as a freelance virtual assistant.
You Determine How Much Money You Make
As a freelancing virtual assistant, you can make the income you want or need to meet your financial goals.
[According to this statistic, 75% of freelancers earn the same or more money than they did when employed at a traditional job.]
When you have learned more to develop a skill or attained a certification you can charge more for the next client. The more experience you gain, the more you charge. You get to make that decision with each project. And each project is an opportunity to make more money! A good rule of thumb is a $10 upcharge with each new client you onboard.
You don't have to wait for the 1-year mark to determine if you want to raise your prices or give yourself a raise. If you want to make more you have options. You can raise your rates or take on an extra client. No waiting on a raise, a promotion, or a boss to make that decision for you!
Ready to jump in? Start with my FREE Launch Fast Crash Course. Inside you'll get the actual truth on what it really means to freelance, which services are in HOT demand right now, exactly where to find paying clients right this second, a no-BS guide to determining how much $$$ you can make, + so much more!