EPISODE 68: SHOW NOTES
Today we're sitting down to chat about work and how moms need more options than the black and white decision of being a working mom or a SAHM.
But first – Can you believe it? Today marks the podcast being one year old! At the end of this episode, I'm going over our month-long giveaway so stayed tuned! You can join the giveaway at MicalaQuinn.com/giveaway.
Does having to work feel like a means to an end right now? That's how I felt at one point but work has really saved me and now my 80 year old vision drives me to do what I love and prioritize my family above all. I challenge you to do your own journaling on this topic – why do you work? What do you get out of it personally and professionally? Let us know over in the Live Free Podcast Mastermind too.
Thanks for joining me today! Don't forget to sign up for the giveaway! I am so grateful for your support. Talk soon!
**This post may contain affiliate links, which means if you click one of our affiliate links and decide to make a purchase, we receive a tiny commission from the seller at no additional cost to you. We only share products and services we have used, tested, and love ourselves!**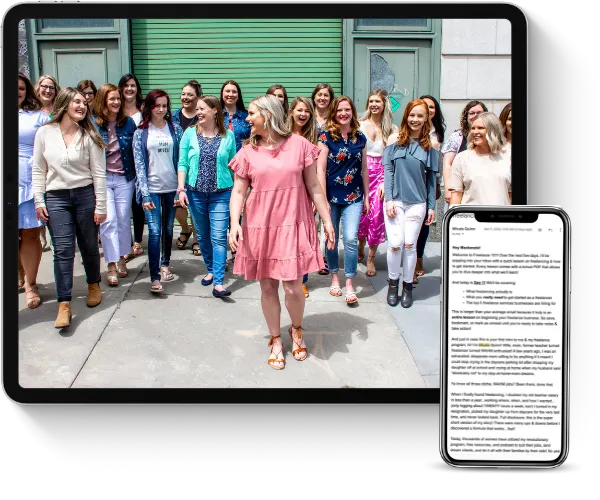 Learn how to earn $3K a month+ as a freelancer working less than 25 hours a week even if you think you have no experience.
This FREE crash course will teach you all about the freelance industry, so you can finally end the family vs. finances battle.
In this episode, we cover:
how my view of work has changed,
what I use to determine if a work decision is right for my family,
how my kids of molded my view of work and I'm glad
Resources and links mentioned in this episode: