What do you need to start a business as a freelancer?  There are 4 basic things you need to begin. As a freelance service-based business–as a virtual assistant, social media manager, a graphic designer–these are what you need to start a business.
A service to offer
Visibility
Paying clients
Mindset
What You Need To Start A Business
1. A service to offer
If you don't know what service it is that you can offer, check out the free workshop that can help you discover your skillset and pick a service. I've never met a person who doesn't have any talents or skills they can leverage as a freelancer.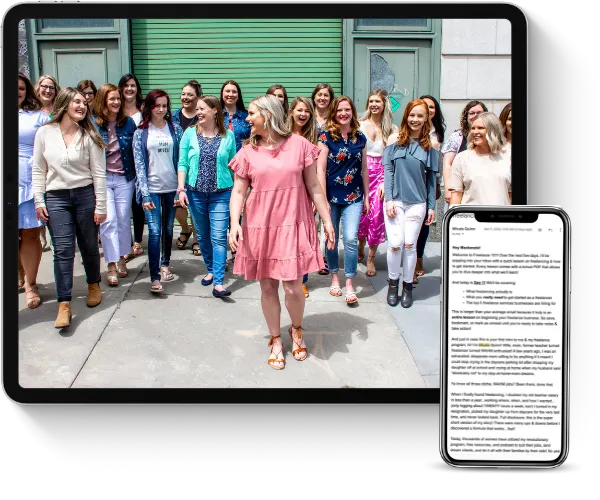 Learn how to earn $3K a month+ as a freelancer working less than 25 hours a week even if you think you have no experience.
This FREE crash course will teach you all about the freelance industry, so you can finally end the family vs. finances battle.
There is this mindset that many women have, where they tell themselves "I have nothing to offer."
Women get so stuck in the mindset of helping others that we overlook the skills we have. And just assume that if something comes easy to us or is a strength, it must be a strength for everyone. And that is not true!
If you don't have a business degree or don't feel that you are a strong writer, or have design skills, then a good place to start is as a virtual assistant.
2. Visibility
The second thing you need to start a service-based business is visibility. Where do you find clients as a virtual assistant? There are many routes you can take to find clients for your freelance business. The route you take will depend on who you want to work with, and what niche you want to work within.
A popular route that is my favorite is finding clients through Facebook groups. You can network through these groups and show your expertise while building business connections through the comments section.
You can leverage your personal network, and let people you know that you are starting a virtual assistant business. (This is a simple way to find clients when first starting your business!)
There is also direct outreach. With this method, you need to know what services you offer, and how you can help a business with those services.
Last, are job boards you can apply on. When you sign up for the Live Free Academy course, you get exclusive access to the LFA job board. This is where many of the women in the group find clients. We're even seeing now that many of the women who started in the LFA program are growing so big, that they are hiring within their businesses through the LFA job board!
Whatever the avenue is that you want to take to find clients, the main thing is to get out there and get visible to the world! You can't get hired if no one knows about your business. So, get out there and start telling people about your business, and start showing up in the comments section.
Think about who your ideal client is, and where they will be hanging out, and then start showing up there.
3. A paying client
This is the one thing that will take you from wanting to be a business to being a business!
So, how do you turn the relationships you built from connections to paying clients?
First, develop your brand with a mission statement. Then choose your logo, font, and brand colors. Use those to create a brand portfolio to share with potential clients.
Then get on a call with the potential client to discuss their problems. Address how you can help them with a problem and what the benefit is for them when they work with you. So, for example, as a virtual assistant, you will help them execute routine tasks. Giving them time back in their day to focus on other tasks only they can do.
If you want a step-by-step tutorial on how to land the potential clients you are connecting with, sign up for the Live Free Academy course to get on the fast track!
4. Mindset
The number one thing that you need to start a business as a freelancer is mindset.
If you want to replace your income. If you want to create a better life for yourself and your family. You want to work on your terms and your time, without sacrificing your sanity and the time spent with your family. The number one thing you need to work on is your mindset.
You will need a growth mindset. So, if you're doubting yourself right now, if you have limiting beliefs, that is something that you need to work on. It's something that you can grow and improve. You can read books, listen to podcasts, and listen to the success stories of the women who have succeeded in the things you want to do. See yourself in them and their stories; their struggles, and how they overcame those struggles.
If you are someone that really wants this, but you are just not there yet in believing that this is something you can do. Check out The Live Free Podcast; there are tons of mindset-themed episodes to help you overcome the fear of starting a business!
A personal favorite is this episode with Jennifer Allwood: Fear is not the boss of you. Click here to listen!