As more and more women are looking for online jobs for becoming a stay at home moms-freelancing, coaching, blogging, and even MLMs are becoming more and more popular.
We've covered the basics of freelancing, coaching, blogging, and MLMs.
Have you read through all the options, and are still wondering which is the best for you? Stick around, and let's discuss what it takes to become a virtual assistant vs what it takes to become a coach.
How to Get Started
Getting your business started is fairly easy.
There will be major differences in the details when starting your freelancing or coaching business. However, the setup process is similar.
We've talked about this a lot on the Live Free podcast and the blog. If you are looking for a guide to getting started, read How to Start Working from Home: An Easy Guide. It's filled with 5 steps you can follow to start a virtual assistance business from home.
Those steps are…
Setting Your Goals
Discovering Your Why
Setting Up Your Business
Discover Your Strategy to Find Clients
Your Mindset
1. Setting your goals
With any business you start, you will want to set your goals. This helps you have something that you are working toward. It also helps you to create a plan to work towards accomplishing those goals.
Outcome, performance, and project goals are things you'll want to learn about when setting your goals for your new business.
2. Discovering your why
This is important! I'll say it again, this step is important! Because starting a business is hard.
When you are starting a business you will be making a huge change. You'll be changing the way you work and structure your family's time. It's going to take some adjusting.
And on those days where it's difficult to see results, or why you are making this huge change in your life. You can use your why to remember why you are doing this for your family, and yourself.
3. Setting up your business
Legal contracts, EINs, taxes, and business entities. These are all things that are considered when starting a business that you'll learn about, and figure out when starting your own business.
The Live Free Academy can help you with these things so you can relax knowing you've set up your business the legal way!
4. Your ideal client strategy
Also, a section in the LFA training is figuring out how you will find clients.
We'll start by answering 4 questions. Who is your ideal client? What is their pain point? How can you solve it? Where can you connect with them?
Then we will use that information to create a client avatar. This will help you create your brand. From the messaging to the colors in your font and logo. You will coordinate it all, creating a consistent message to resonate with your ideal client.
5. Mindset
A common roadblock for a lot of moms who work from home is the fear of failure.
By defining what failure is and what it means for your business to fail, you will discover why a mere mistake is not failing. And how you can use it to learn and move forward!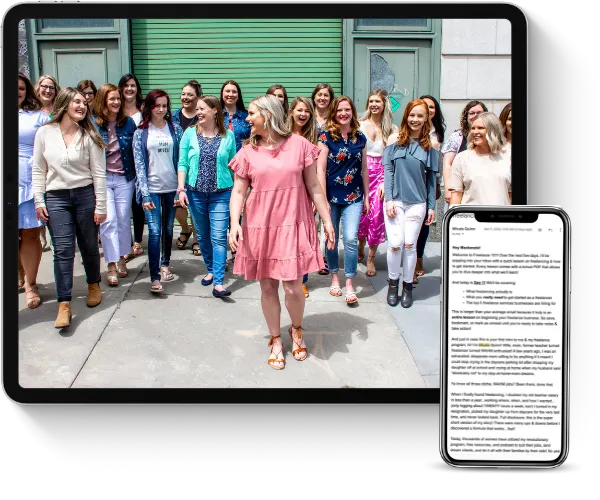 Learn how to earn $3K a month+ as a freelancer working less than 25 hours a week even if you think you have no experience.
This FREE crash course will teach you all about the freelance industry, so you can finally end the family vs. finances battle.
Developing Your Skill Set
Freelancing Skills
With Freelancing, you can start today with no experience in virtual assisting, administrative experience, or office management experience.
You can use your unique set of skills and experience to assist businesses in your niche with administrative tasks, management tasks, social media assistance, and more!
Nurses, teachers, stay-at-home moms, dental hygienists, administrative assistants, lawyers, etc. can get started by downloading for free The Freelance Skills Assessment to figure out which services you can offer. And you'll learn who is looking for those services to start transitioning to a freelancer today!
Working as a freelancer not only allows you to start quickly, but you can learn as you go – which provides a lot of opportunities for beginners! Plus, many business owners are willing to work with a beginner, because they are more easily trained. An established business generally has an SOP for the tasks they need help with, allowing for a beginner to follow the instructions to complete the task. But may not have the budget for an advanced VA.
And you can get more experience for free by joining Facebook groups like the Live Free Podcast Mastermind. You can participate in threads like "Swap it Sunday" where business owners trade small tasks for testimonials. Giving beginner VAs the skills they can then sell to other businesses.
Coaching Skills
Beginning as a Coach, you will need to determine your skills and figure out how you can use them to help other businesses succeed.
Coaches should always focus on learning new information, best practices, and consistently improving their coaching skills. That means investing in seminars, courses, training programs, and other relevant programs related to your niche.
Obtaining certifications are excellent ways to show that you can help other business owners complete their goals. There is no official set of certifications or training you need to become a coach.
However, the most reassuring and best thing you can show to potential coaching clients is the results you can help get. What goals did you help to accomplish? How did you help your client achieve these goals?
Finding Clients
In addition to developing your strategy to find clients (we discussed earlier), networking and developing a system to sign clients is important to any service-based business.
Freelancing Clients
So, how exactly do you find new clients when you are a freelancer. In my opinion, the best way is to network in Facebook groups.
Inside the LFA training, one step is dedicated to walking you through how to find and network with your ideal client. Plus, how to answer questions to gain authority in your niche.
There are job boards, like the Live Free Academy Hire Form, that connect business owners looking to hire freelancers with talented LFA alumni.
Coaching Clients
Finding clients as a coach is a little more difficult.
Coaches often need a strong social media presence, and possibly a website. First, determine where or what platforms your ideal client is hanging out on. These platforms may include Instagram, LinkedIn, Facebook, or the blog on your website. And all of these you'll need to keep updated and post to regularly. Use these platforms to turn visitors into followers, and followers into clients.
With coaching and freelancing, the best leads for new clients come from referrals! So, you can offer free, mini, or discounted sessions to people in your network and when they are happy with the service you have provided, then ask them to refer you.
Conclusion
Hopefully, this helps you determine what it takes to become a coach vs. a freelancer. And will help you determine which business is the right one for you.