What is an OBM? Great question, that I would love to answer! OBM is an abbreviation for an operational business manager.
So, what are an OBM's tasks; what do they do? An OBM helps other businesses with project, team, analytics, and operations support.
The OBM often helps a business owner with managing the day-to-day tasks of running the business so the owner can focus on other things within the company.
What are OBM Tasks?
The tasks of an OBM can be broken down into 5 main categories.
Implement systems
Manage the team
Organization
Strategy
Tech support
Learn more about OBM tasks in this post all about OBM tasks!
Who Needs an OBM?
Any business that is looking for help with managing systems, teams, or individual team members, organization, and/or strategy to help the business meet its goals and grow will benefit from an OBM!
What is an OBM vs. PM vs. VA?
That's a lot of acronyms! Let me break it down, and then I'll go into a little more detail.
Simplified: OBM vs. PM. vs. VA
OBM (Online Business Manager) – creates an idea for a project to support overall company goals, organizes the plan for it, and assigns it to appropriate team members.
PM (Project Manager) – manages a specific project to keep track of the budget, due dates, and schedules.
VA (Virtual Assistant) – completes assigned projects.
What is the difference between an OBM and a Virtual Assistant?
The online business manager, OBM, helps prepare strategy, track metrics to ensure the business is meeting goals and deadlines, implements systems, manages the team, and creates marketing plans that align with business goals.
A virtual assistant provides administrative support for the business owner. So they will help with doing task-oriented projects assigned to them.
What is the difference between a Project Manager and an OBM?
The project manager helps with managing more nitty-gritty details like due dates, budget, or schedule for a specific project.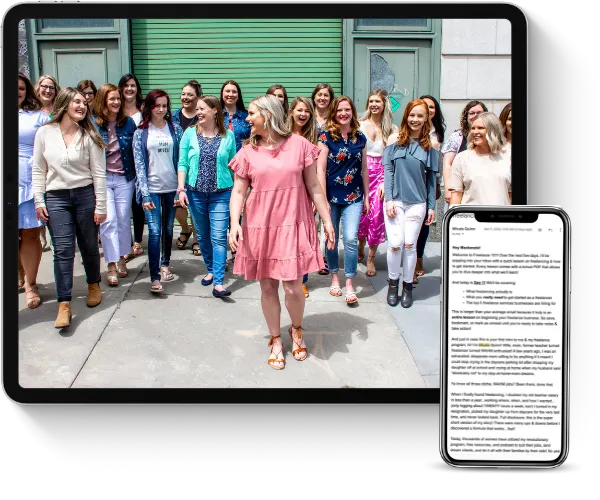 Learn how to earn $3K a month+ as a freelancer working less than 25 hours a week even if you think you have no experience.
This FREE crash course will teach you all about the freelance industry, so you can finally end the family vs. finances battle.
What is an Example of an OBM?
Here are a few examples of what you might do to help clients run their business as an operational business manager.
Planning: you will meet with the client to get their expectations of the business or from a specific event or aspect of the business. You will find out what their goals are from it, then you will help create and put plans in place that will help the business meet those goals.
Implementation: you might need to create a new operating system for your client, and will document it as you create it.
Organization: you could create a file in your client's operation system to help organize the business so that your client can find all their SOPs in one place.
Skills Needed to be an OBM
One thing that will help you as an OBM is being a natural problem solver. Do you try to figure out a solution when something goes wrong?
If you lose your marbles or get very worked up when plans don't go the way they are supposed to, you might have a hard time as an online business manager.
However, if you can keep your cool, try to figure out the problem, and find a solution to it then working as an online business manager might be for you!
3 Things Successful OBMs Do
Will create an implementation system for the business and make clear operating procedures for the team to follow.
Will organize the processes and ensure all processes are documents so that they are easily repeatable.
Will help the business owner get out of running the day-to-day operations, and free them up to help with other parts of running the business that only the client can do themselves.
How Much Does an OBM Make?
Online Business Managers start their beginner rates at around $75 per hour, once they are certified as an OBM. After gaining some experience and raising their rates, they can charge upwards of $100+ per hour.
How Do I Become An OBM?
If you liked learning more about what an OBM is, what they do for businesses, and want to become an Online Business Manager, generally there are training courses with certifications that will teach you about working as an OBM with clients like Sarah Noked!
Sarah came on the Live Free Podcast to share her story and tips on becoming an OBM, listen here!
Ready To Start Your Business?
Are you ready to start working from home as an OBM or as a virtual assistant? You can do this and I would love to help support you in making this dream come true!
Learn more about my program to become a freelancer, at the Live Free Academy! Where I teach you how to start your business with a strong foundation from the ground up.
With the program, you will learn how to work as a virtual assistant or other type of freelancer like an online business manager. When you sign up, you get all the tools and templates needed to land your first client fast! It includes skills training, a community of freelancers just like you who are building their businesses too, plus weekly coaching calls, a job leads board, and accountability challenges to meet monthly goals! Learn more about the program and sign up at MicalaQuinn.com/Academy!