What is a Freelance Copywriter?
A freelance copywriter is someone who writes content for businesses. It can be informational, navigational, or transactional. A freelance copywriter works on a contract basis, and generally from a remote location.
What content does a freelance writer create?
Email marketing campaigns
Blog posts
Newsletters
Ebooks
White papers
Email marketing
Social media
Website copy
Ads
Product descriptions
Presentations
What is a freelance copywriter vs. a content writer?
Copywriter
A copywriter generally focuses on the sales pieces of a business's content. Copy is a very direct response type of writing and focuses heavily on sales components. This type of writing is often present in website copy, email sequences, and sales pages.
Copy is usually written with the intent of persuading the reader to buy or take some type of action, like sign-up for an email list or completing a purchase.
Content writer
A content writer primarily focuses on providing more information or educational content for the reader. This type of content can include writing for blogs, ebooks, freebies, or anything else that might educate an audience.
Explore Freelance Copywriter Jobs
These are just 2 of many freelance copywriter jobs that have been posted in the job leads Facebook group for LFA members. Both are beginner to intermediate roles looking for a freelance copywriter!
What are the tasks of a freelance copywriter?
Some examples of the tasks a freelance copywriter will do can include:
research
competitor research
writing the content
editing and proofreading
managing projects
Read more about these tasks in this blog post!
What Skills Do I Need to be a Freelance Copywriter?
What skills do you need to learn if you want to be a freelance copywriter or even a virtual assistant to a copywriter?
Language arts
First, you will need an understanding of the language you will be writing in. This includes sentence structure, style guides, and common phrases and terms, spelling rules, and composition.
Editing and proofreading
Editing and proofreading skills are also necessary. Many writers enlist the help of a writing tool to make suggestions for them. Tools like Grammarly are helpful in these instances and have free options available for beginners with small budgets!
Research
Research is also a skill many writers will need. Keep in mind, that research can present itself in different forms for different businesses and types of writing. You may need to research various topics to gather correct and updated information, or you may need to do competitor research for a client.
Time and project management
Time and project management skills are a must for any freelancer. As a freelancer, you are your own boss and in control of your schedule and projects. So, you will need to have some kind of time management and project management skills to make sure you are meeting client deadlines and expectations.
How Can I Start as a Freelance Copywriter?
I always get questions about how to start as a copywriter, and whether you need experience to do it.
The answer is, no you do not need experience as a copywriter to become a copywriter! Start with one service, then add on after you get some experience.
Steps to becoming a freelance copywriter
To begin as a copywriter, you want to first start your business.
Then create a portfolio.
Start networking your services with your in-network contacts, Facebook groups, or local businesses.
Hold a discovery call with potential clients.
Send a contract and invoice.
Sample work and testimonials
"Micala, what if I have no examples for my portfolio?" When you are first starting, you may need to fake it till you make it. By that, I mean until you can start using real-life work samples in your portfolio, create a fake business, and write some samples to show potential clients what you can do.
To get your first work writing sample, offer a small project in exchange for a testimonial to show off in your portfolio. By a small project, I do not mean writing the entire website for free! I mean an about me section or the first email in an email sequence.
If you want step-by-step help in starting your business, your portfolio, or access to the bonus material and samples for your portfolio check out the Live Free Academy program where I can help you every step of the way!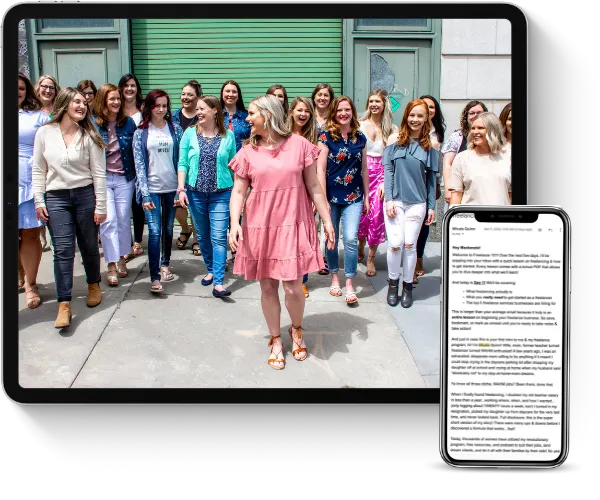 Learn how to earn $3K a month+ as a freelancer working less than 25 hours a week even if you think you have no experience.
This FREE crash course will teach you all about the freelance industry, so you can finally end the family vs. finances battle.
How Much Money Do Freelance Copywriters Make?
Always check the Editorial Freelancers Association website to find the most updated rates broken down by rate per hour, per word, and average price.
Copywriters can start their rates typically at around $30 per hour when they are beginners. As you gain experience, you increase your rates.
More intermediate and experienced copywriters can charge around $40-50.
They can even increase rates to $75 plus for more advanced roles!
Remember, for copywriters the pay scales increase with a proven track record of increasing sales through your copy.
How does a freelance copywriter get paid?
Freelance copywriters can charge by the hour, however, it's more common to charge by the package or deliverable.
The process as a freelance writer is to find potential clients through networking. Book a discovery call to assess whether you and the potential client are a good fit to work together.
Send the client a proposal to sign, and an initial invoice to pay. You can have them pay through any payment processor, some of the popular options in the LFA group are Wave and Stripe.
Sample copywriting package
For example, take an email sequence package. If an average email has 300 words, and you charge $.20 per word that comes to $60 per email.
Let's say this particular package has 5 emails.
$60 x 5 = $300 package.
If it takes you 3 hours to write those 5 emails, (300/3=100) that equals $100 per hour.
VIP intensive packages
Some freelance writers also choose to do the day rate model or VIP intensives where they deliver a project in 1 single day.
These packages can carry a higher price tag ranging anywhere from $500 to $5,000.
Learn more about the day rate model with copywriter Leann Zerr in this podcast episode! 
Learn more
Has learning about what a freelance copywriter is got you thinking this could be an actual solution to being at home with my kids and making money to support them–but how do I start?
It can seem intimidating thinking about all the things you need to do to start your own business!
My program the Live Free Academy is a step-by-step course that can help you at every stage of starting and growing your business!
Inside this course, you get full access to all the tools and templates, skills training, and the most supportive community of freelancers on the internet by your side!
Plus, you get weekly coaching calls, freelance job leads from the exclusive LFA Hire Form available only to the LFA community, and monthly land your client goals challenges.