Freelance digital marketing is a term that gets thrown around a lot in the digital space, but what do freelance digital marketers do? If you are wondering what a freelance digital marketer is, then I have the post for you!
Betsy Moorehead is now a full-time freelancer and mom who has worked in corporate for 10 years as a marketing strategist. She is sitting down with us today to explain it all! We will learn about Betsy's story, what do freelance digital marketers do, and what kind of clients she takes on as a freelance digital marketer.
Betsy's Story
Betsy has worked for the same organization for the last 10 years for a large event in Houston. She kept growing and finding new opportunities in communications, social media, marketing, and branding.
When she had her first daughter in 2019, Betsy went on maternity leave and then back to work. Then she lost her dad, and she felt like a different person. Shortly after the pandemic began, and she was forced to be at home again. She sent her daughter to daycare while she and her husband worked from home full-time.
Shortly after that, Betsy had a friend that had a friend that was looking for someone to do some side work for them. When Betsy heard it was a writing job, she said yes as writing is (and always has been) her passion! She began freelancing on the side for her business doing PR and writing blogs for that business.
That's when she found The Live Free Academy!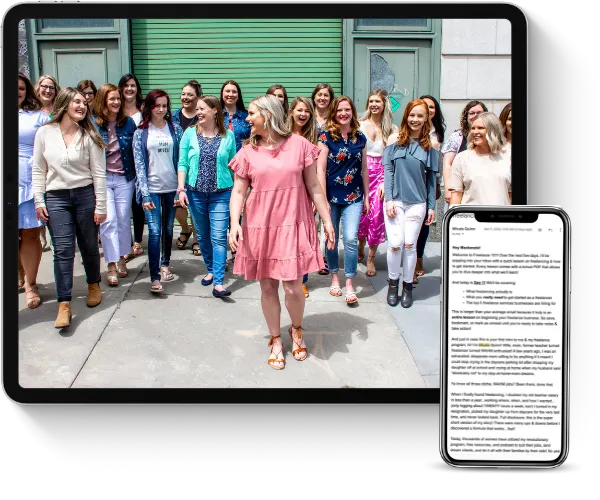 Learn how to earn $3K a month+ as a freelancer working less than 25 hours a week even if you think you have no experience.
This FREE crash course will teach you all about the freelance industry, so you can finally end the family vs. finances battle.
Starting as a freelance digital marketer full-time
At first, while working from home Betsy had a little extra time working from home so she was freelancing on the side. It wasn't until January of 2021 that she decided she wanted to make it work full-time.
She set a goal to be able to do it by the end of the year. It ended up being only 6 months in that she was able to do it full-time!
Betsy remembers at first she started at a lower rate. Then she started doing some research on market rates, what other contractors were charging, and using The Live Free Academy resources to help more appropriately price her services.
She began to figure out when and how many hours she could work, and using The Ultimate Pricing Calculator, what she needed to charge to make it work. Then began focusing on landing one client, and then another while raising prices with each new client.
What Do Freelance Digital Marketers Do?
Freelance digital marketers work with clients to help create and carry out marketing strategies and measure the results through analytics.
Betsy's services as a freelance digital marketer range with her clients, here is a breakdown of the services she provides as a freelance digital marketer:
Social media management
Account management
Content strategy and SEO
Content writing
Social Media Management
Social media management where she sources images, writes post copy, schedules out posts, and social media strategy, plans reels and static content, and plans out video content.
Account Management
Account management where she does Facebook and Google ads, Google searches, and getting all these accounts set up.
Content Writing and SEO
On the VIP intensive days, she helps clients with SEO services, and content strategy, and can be as specific as figuring out how to grow an email list.
Content writing is one more service Betsy offers where she does both ghostwriting and blog writing for clients.
Betsy's Freelance Digital Marketing Clients
Betsy's background is in the background agricultural space, however, her clientele is all over the board.
Retainer clients
A few do interior design and public relations in the luxury home industry.
One is a digital agency that offers services to its clients.
Another is a personal trainer and CrossFit coach.
There is a physical therapist.
One more owns a peach and apple orchard.
VIP day clients
Betsy now offers VIP days, and one of those clients is in the oil and gas industry, another is a children's book author, and one more is a mommy blogger.
Ideal client
Betsy works with online businesses, entrepreneurs, small business owners, and big businesses. She says while many freelancers have an ideal client based on the services they provide, hers is someone she can talk to openly and communicate with about the importance of having a marketing strategy.
3 Ways To Find Digital Marketing Clients
There were 3 ways Betsy says she found her first few clients.
1. Live Free Academy Job Board
Betsy's very first client came from the LFA job board after reaching out to a potential client. She did not hear from them for a few weeks and just followed up. Now they still work together and is one of Betsy's biggest clients!
2. Leveraging her personal network
In doing this, she just mentioned it through passing and let family and friends know that this is what she was doing on the side, and wanting to take it full-time. Most of the time someone knew a contact they could refer to her!
3. Connect with local businesses through the Chamber of Commerce.
Betsy reached out to the local Chamber of Commerce to see if there was a networking opportunity for her to meet some local businesses. Through this, she put herself out there in a professional manner which she thinks helped her with landing clients.
You can connect with Betsy on her website or Instagram!
More resources
Now that you know what freelance digital marketing is, are you interested in starting and launching your freelance business?
I would love to support you and help you build your business from the ground up. My course is a step-by-step program with modules that will help you every step of the way to build your business. From legal contracts and taxes, determining your ideal client, finding clients, landing clients, and even how to work with clients!
Inside my program, you will start landing and working with clients ASAP to replace your full-time income so you can work from home! I would truly be honored to be by your side in building your business and reaching your income goals. If you are ready to commit to yourself and your future business, click here to go to the enrollment page.