The "gig economy" is a term commonly used as an umbrella term for all remote, flexible positions. While independent contractor and freelancer positions have similarities, these roles are vastly different!
It is important to understand the differences between independent contracting and freelancing to determine which is better for you. And to make sure you are applying to the correct jobs. Since it can have a huge effect on the hours you work, the pay you take home, and the schedule you keep.
Read on to learn more about the difference between being a freelancer and an independent contractor and which is a better career choice for you.
3 Differences Between Freelancing and Independent Contracting
There are many differences between freelancing and independent contracting. These three are key, in determining which is the better career for you:
Hiring and Payment Processes
Contracts and Length of Project
How Much and Where You Work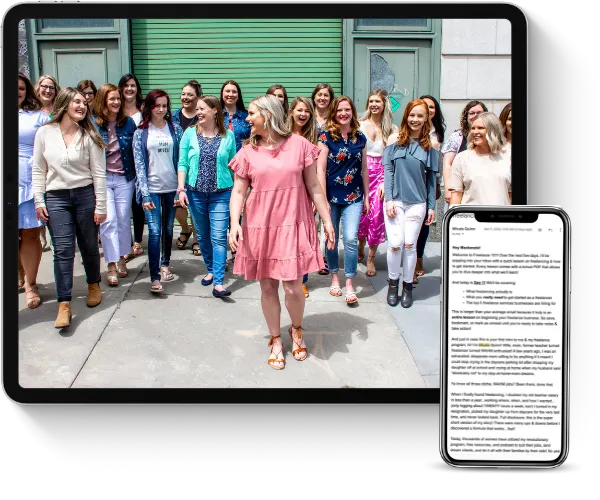 Learn how to earn $3K a month+ as a freelancer working less than 25 hours a week even if you think you have no experience.
This FREE crash course will teach you all about the freelance industry, so you can finally end the family vs. finances battle.
1. Differences in the Hiring and Payment Process
Contractor: Typically, when a company wants to outsource a specific job, it will reach out to an external vendor or an agency that will assign workers to perform that job. These workers are hired directly by the vendor and contracted.
When it comes to payment, the company pays the vendor, who then pays each independent contractor it employs.
Freelancers: Typically, freelancers work on their own. That means a freelancer finds their own jobs and are paid directly by the client or employer. Leaving out the vendor as a middleman and receiving the full agreed-upon amount paid in the contract.
2. Contracts and Length of Project Duration
Contractors: are hired for periods that span months to years and devote all their work hours to a single project for the entirety of the contract.
Freelancer: projects can be much shorter unless they have a retainer client, which would also span from months to years. A freelancer will usually not allot all their work hours to one client, allowing the freelancer to work on multiple projects or with multiple clients at any given time. Allowing freelancers to diversify their income, so they can add new clients and raise their rates more often and at a faster rate.
3. The Hours You Work and How Work is Performed
Contractor: When you are a contractor, your employer has some say over how and when you perform the work. It's worked into the contract with the vendor, so you are obligated by contract to work specific hours and sometimes on-site.
Freelancer: Employers/clients cannot decide when, where, or how you perform the work. You, as the freelancer, are in control of the hours you work and when you do it. As long as you are getting your tasks done by the agreed-upon deadline, most clients do not care when you do it or where.
Which is a Better Career Choice for You?
In short, it depends. The better choice for you is the one that makes you the happiest. It must work for your work style and your family life.
So, when you decide which is better for your new business, consider the following to determine if you are better suited for independent contracting or freelancing.
If you:
Want someone to contract the work for you
Want a fixed pay or scope of work
Want to work on or offsite
Want to work on single projects at a time
Then independent contracting is for you.
If you:
Want to control how many hours you work
Want to control when you perform your work
Want to try different types of work and projects
Want to raise your rates on your schedule
Then freelancing is for you.
Now that you understand the differences between independent contracting and freelancing, you can determine which career is better for you!
Do you think freelancing sounds like the better option for you?
The Live Free Academy can help you determine the hours you want to work and the pay you need to take home to replace your full-time 9-5!