Are you are looking into ways to make money online? Do you want to start making consistent money in the shortest, least amount of friction way possible? Then stop searching and start freelancing!
This blog post is going to help you break free from the overwhelm of the endless work-from-home options, and commit to freelancing. Today, we are talking about ways to make money online. And why freelancing is the best option to make money online!
Here's why:
It is the fastest.
It has the least amount of initial startup costs.
Is the most sustainable option to make money online.
I see so many ads in my newsfeed promising work-at-home jobs and flexibility. In fact, from my recent poll on  Instagram, 94% of women polled said they were overwhelmed with all the options out there. So this post is for all of you!
In this post, I will compare freelancing to other ways to make money online. I'll share anecdotes from some women's experiences of trying some of these other ways. Then they try freelancing, and it solves all their problems. Just kidding, it doesn't solve all their problems, but it does solve the wanting to make money from home asap problems.
Disclaimer: Obviously, I am biased. I've got a lot of experience and anecdotes to back that up. This post is in no way to shame others who have gone in a different direction! This episode is to speak to the women who are still looking at ways to make money online and haven't decided yet.
Easy Ways to Make Money Online
Out of the common ways to make money online options that I see on my newsfeed and answers to the poll on Instagram were: influencer, starting an eCommerce business, Etsy store, direct sales (MLM), and TPT (teachers pay teachers).
The problem with all 5 of these options is that to make good money from these you are going to need lots of customers. Not only will you need a lot of customers, but a lot of repeat customers and a consistent stream of new customers.
Now, in order to grow a new customer base you're going to have to turn into a content creator.
That takes a lot of time, money, and energy to happen. It usually takes years to grow a sizable following. For some, it can happen faster, but for most, it takes a ton of time. And a ton of time before any income comes in from that.
With that time spent, and not being compensated for that time, means a lot of people give up.
I don't want you to give up! I want you to get started, and I want you to see money coming in and helping your family as fast as possible. And I fully believe the best way to do that is with freelancing.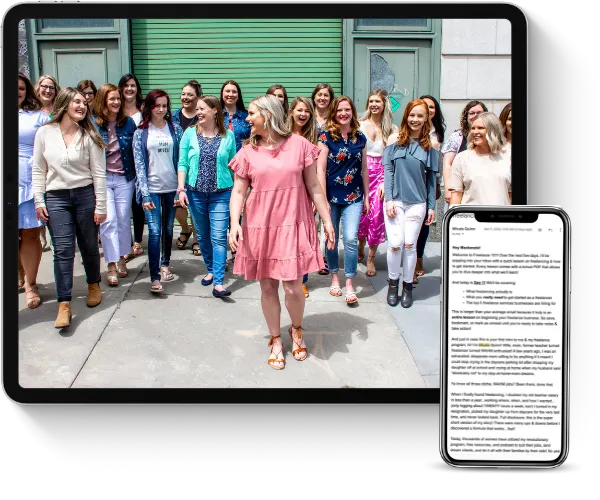 Learn how to earn $3K a month+ as a freelancer working less than 25 hours a week even if you think you have no experience.
This FREE crash course will teach you all about the freelance industry, so you can finally end the family vs. finances battle.
So, let's talk about the ways to make money from home.
1. Influencing
Influencers make money in a couple of different ways, through affiliate sales (where they link to products through another channel like Amazon and earn a commission on that product). A standard commission I see is anywhere between 5-10%.
And that is minimal.
I get pitched a lot to do affiliate sales, and I always turn them down. Because I'm not going to work my but off to push your thing when you're going to give me 5% commission on it. I don't have the time and the energy to put into that. Nope, no thank you.
Let's work the numbers out to get an idea of the sales you have to make. Let's say you get a 5% commission, and the product is $100. For every $100 product someone purchases from your link, you would make $5. So, to earn $1,000, you would have to sell over $20,000 in products or 200 vacuums.
If you don't want to have a large social media following, have to think about beating the algorithms all the time, or post on social media this probably won't be the best fit for you. If you don't want to post on social media, you don't need to, to be a successful freelancer.
2. eCommerce shop
Another option I see on ads a lot is eCommerce. This would be if you have an online boutique and sell other products, you can curate your favorite products, buy them wholesale then ship them from your house.
Or you can do eCommerce through dropshipping where you have a website and you source the products but don't buy them. Someone else would ship them.
Or you have your own products that you create and sell.
With this way to make money online, similar to the influencer route, you will need a lot of followers to make enough consistent sales each month. You will be consistently creating content.
With this, the initial startup costs are higher because you have to either buy products or spend a lot of time, energy, and money to get your product designed and manufactured. Then you need a website, ads, etc.
3. Etsy Shop
This is another common way to make money online I see. A lot of people try Etsy, and in this way, similarly to influencing you need a lot of followers and customers.
Plus, you have to buy and invest in the materials to make the thing and the time to make the thing.
I tried making and selling bows, and I kid you not, I lost money here. I went crazy at hobby lobby buying all the materials. Made some and got hot glue gun burns. But I could only charge so much per bow and quickly ran out of friends and families to sell to.
So I had leftover products, bows, and no one to sell them to. Sure, I could have stuck with it and maybe turned it into something bigger. But I didn't because I wasn't that passionate about selling bows.
I sold them for $10, so I would have had to sell 100 bows to make $1,000.
Had I stuck with it, I could have figured it out and made it work, but I found a better option–I found freelancing!
4. Direct Sales, MLM, Network Marketing
This was a very common response from the women who took my Instagram poll. Many have tried direct marketing, MLMs, or network marketing. This way to make money online is similar to the influencer model in that you are selling a product and making a commission on it.
Most times the commission is very small unless you recruit people under you to join in and sell the product too.
For example, I started taking Juice Plus+ vitamins. My mom sells them, kind of, and asked me if I wanted to sell them. So, I looked at the website and if I didn't have anyone under me selling them then I'd only make a 2 or 3% commission. That is so minimal.
Sure, it may be a good add-on for my business now, but back when I was teaching, and had no following or social profiles. It would have taken me a lot of time to sell a lot of vitamins on a 2% commission to make $1,000.
5. Teachers Pay Teachers (TPT)
Another common way to make money online is through Teachers Pay Teachers sales. This is similar to Etsy, except you make a product that another teacher can use in their classroom and sell it.
Unlike Etsy, you don't have to make a different bow for each person, with TPT you can make the product once and continue to sell it. The problem is you can only sell it for so much, and you will need repeat constant customers to make $1,000.
So, say you had a resource that was $27. You would have to sell 37 products to make $1,000 that month.
If you do this route, keep in mind both TPT and Etsy take a commission to sell on their marketplace, so you have to sell a little more to meet your income goals.
The common denominator
The common element in all of these ways to make money from home is that to meet your income goals and grow, you need a lot of customers.
Not only do you need a lot of customers, but you need lots of repeat customers and constant new customers.
To grow that customer base, you will have to turn into a content creator. Not to mention the other costs associated with doing those businesses. Now, there is nothing wrong with these ways to make money from home.
The Best Way to Make Money Online: Freelancing
If your goal is to make money as fast as possible, with the least friction as possible, with the least amount of upfront investment freelancing is the option you are looking for.
For 3 reasons this option is the best way to make money online for those women that are looking to build a full-time income from home.
You don't need a lot of customers to hit your income goals. You probably only need a handful of clients to hit your income goals–anywhere from 3-5 max.
You don't need repeat clients if you offer services that are retainer-based and recur monthly. That means you are only going to need 3-5 clients total, not every single month!
You don't have to become a content creator and post on social media if you don't want to. There are ways to find clients in other ways!
The income you make off one client, compared to a single commission sale is huge!
The standard monthly package is about $1,000 a month. So would you rather land a client with a package for $1,000 per month or find 200 people each month to spend on affiliate products?
The amount of time it could take to reach an income goal as a freelancer realistically is 5-6 months. If you get started today and get buckled down doing the tasks you need to do the most.
Give yourself 1 month to build a solid foundation, then commit to networking each day to land clients. Each month of networking daily can mean 1 new client a month.
Are you convinced that freelancing is the next right step for you? If so would you like support to help you and make it happen? Then check out the Live Free Academy! With the course, you will build a freelance business with the tools and templates needed to land your first client fast! It includes skills training, a community of freelancers just like you who are building their businesses too, plus weekly coaching calls, a job leads board, and accountability challenges to meet monthly goals. Learn more about the program and sign up at MicalaQuinn.com/Academy!