EPISODE 161: SHOW NOTES
Forty days – that's how long it took Sarah Randel to go from overwhelmed to booked out in her freelance business! In this month's success story episode, Sarah is sharing her story and how she landed 6 clients in the first 40 days of her business.
We chat about where Sarah's confidence comes from, what daily mantra she uses, how she learned social media strategy, and what her mom life looks like now!
Born and raised in San Antonio, TX, Sarah Randel is a mom of 3 kids! Her oldest daughter is almost 4 years old, her second daughter is 17 months old, and her son is 5 months old. Sarah is a former 4th grade teacher and has been married to husband for almost 6 years!
Want to hear more Success Stories from my program, Overwhelmed to Overbooked? Just click here!
Thanks for joining us today! Head over to the Live Free Podcast Mastermind to connect with other freelancing moms! Can't wait to chat with you there.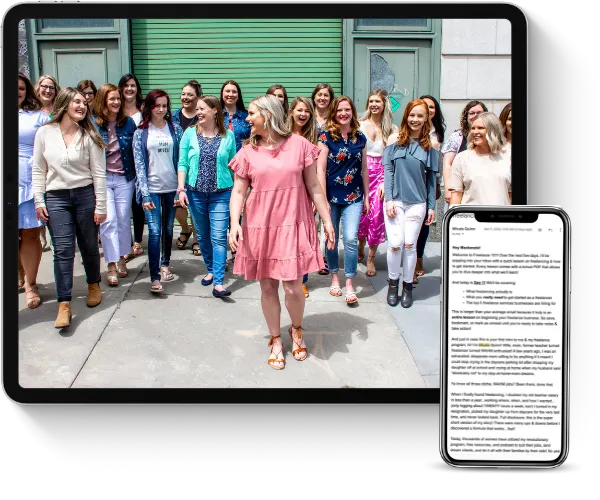 Learn how to earn $3K a month+ as a freelancer working less than 25 hours a week even if you think you have no experience.
This FREE crash course will teach you all about the freelance industry, so you can finally end the family vs. finances battle.
In this episode, we cover:
Where Sarah get her confidence,
What her daily mantra is and who it's from,
How Sarah learned social media strategy (as a former teacher!) and
What she did to land 6 clients in her first 40 days
Resources and links mentioned in this episode:
Want to hear more Success Stories from my program, Overwhelmed to Overbooked? Just click here!
Loving the show? It would be so helpful if you could write a review HERE

. Thank you!

Don't miss our last episode with Vidya Ravi on not letting excuses hold you back
**This post about 6 clients in 40 days may contain affiliate links, which means if you click one of our affiliate links and decide to make a purchase, we receive a tiny commission from the seller at no additional cost to you. We only share products and services we have used, tested, and love ourselves!**