EPISODE 89: SHOW NOTES
Are you starting your freelance journey as a DIY virtual assistant? That's where Rachel Marchant started just one year ago! In this episode you'll hear her journey from starting out, pitching a business owner she knew, investing in Overwhelmed to Overbooked, and now pivoting into the role as a certified online business manager (OBM)!
Rachel is almost a certified OBM but she's also a wife and WAHM to a wild and rambunctious toddler. She squeezes her work into the early mornings and nap time and loves helping her clients take back their love for their business by making sure all the things are running smoothly and efficiently.
Want to hear more Success Stories from my paid program? Read more here! Thanks for spending time with me today – talk to you soon!
**This post about a wahm success story may contain affiliate links, which means if you click one of our affiliate links and decide to make a purchase, we receive a tiny commission from the seller at no additional cost to you. We only share products and services we have used, tested, and love ourselves!**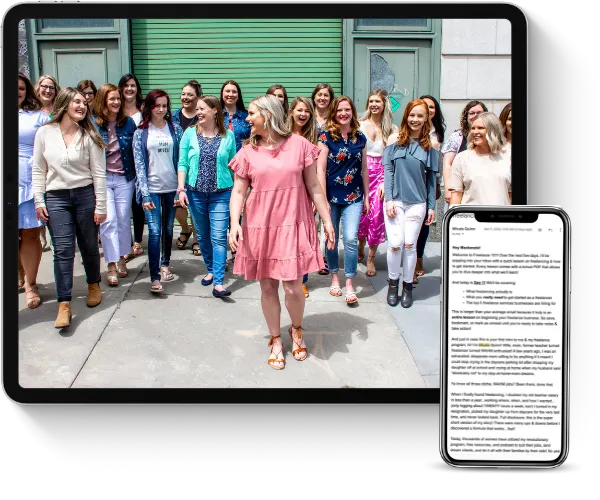 Learn how to earn $3K a month+ as a freelancer working less than 25 hours a week even if you think you have no experience.
This FREE crash course will teach you all about the freelance industry, so you can finally end the family vs. finances battle.
In this episode, we cover:
how Rachel went from DIY virtual assistant to online business manager (OBM),
why it's important to try different services to determine what you really enjoy, and
how cold pitching someone you know can be a great way to land your first client!
Resources and links mentioned in this episode:
Connect with Rachel on facebook!
Learn more about becoming an Online Business Manager:
Are you ready to get started as a freelancer but not ready to invest in OTO? Check out my Get Legit and Quit Kit here!
Overwhelmed to Overbooked is opening back up on January 17th! Get on the waitlist here so you don't miss the presale