EPISODE 154: SHOW NOTES
I don't want to sugarcoat it – starting a freelance business isn't easy!
In this episode, Nikki Gerber shares her work from home mom success story. We cover how Nikki started her freelance business, the struggles she ran into along the way (like a tough situation with her first client!), and how she is committed to never giving up!
Nikki is a lifelong resident of Michigan where she lives with her husband of 16 years, their 13-year-old daughter, two dogs, and one cat. Nikki is a virtual assistant turned bookkeeper and payroll/HR assistant!
Want to hear more Success Stories from my program, Overwhelmed to Overbooked? You can do so HERE!
Thank you for listening today! Bring any questions you have to the Live Free Podcast Mastermind on Facebook. Lean on this community to build your freelance business – you can do this!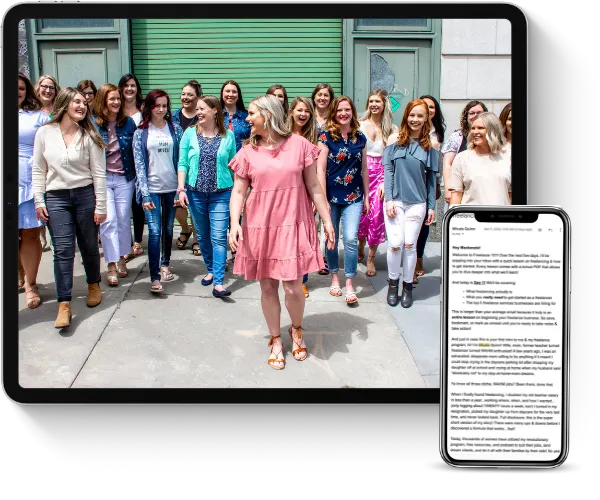 Learn how to earn $3K a month+ as a freelancer working less than 25 hours a week even if you think you have no experience.
This FREE crash course will teach you all about the freelance industry, so you can finally end the family vs. finances battle.
In this episode, we cover:
What fears Nikki had before starting her freelance business,
If freelancing is only for creative millennials,
How Nikki found the perfect services for her strengths, and
What tools to use so you never give up
Resources and links mentioned in this episode:
Take the Skills Assessment HERE – upload your results to the Live Free Podcast Mastermind and I can help you decide what services to start with!
Don't miss our last episode on how to build a booked-out web design business with Mackenzie Mader
---
**This post about never giving up may contain affiliate links, which means if you click one of our affiliate links and decide to make a purchase, we receive a tiny commission from the seller at no additional cost to you. We only share products and services we have used, tested, and love ourselves!**