EPISODE 135: SHOW NOTES
Before Miranda started her freelance business, she was juggling a full time job and childcare stresses. She decided to try freelancing while she started nursing school but soon realized the limitless potential she had with her freelance business.
In this episode, Miranda shares her first year in business with us and how exactly her life has made a 180. We talk about what Miranda did to find clients, how she's had success on TikTok, and where she sees her business in the future.
Read more success stories from the Overwhelmed to Overbooked Success Stories HERE. Thanks for listening today!
For more information on the most comprehensive freelance program, Overwhelmed to Overbooked, click HERE!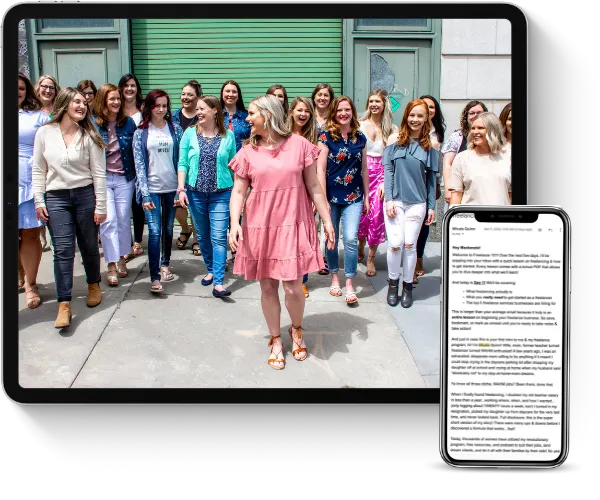 Learn how to earn $3K a month+ as a freelancer working less than 25 hours a week even if you think you have no experience.
This FREE crash course will teach you all about the freelance industry, so you can finally end the family vs. finances battle.
In this episode, we cover:
Why Miranda started her freelance business and what her fears were,
How not having childcare stresses has changed her life,
Where Miranda has found her clients, and
Her tips on using TikTok!
Resources and links mentioned in this episode:
Connect with Miranda here or on TikTok @MirandaWalden
Find Miranda's online boutique at CamiReign.co
Learn more about Overwhelmed to Overbooked here!
More about Miranda:
Miranda was born and raised in a small town in Southern Georgia, and while she's a proud OTO alumni, she isn't a college alumni. She found her passion while trying to attend school full time. After realizing her growth as an entrepreneur would be limitless, she proudly dropped out to pursue her business.
Miranda runs her first business, MW Virtual Support, as a Virtual Assistant to business coaches. She has a burning passion for all things content creation for blog posts, email marketing, and social media strategy. Miranda loves being able to help not only her clients but also the audience they reach through the educational and inspirational content she creates for them.
Behind the scenes, she runs a small online boutique, Cami Reign, named after her two young daughters. Miranda has also grown a following on TikTok and loves sharing tips and advice to help other aspiring entrepreneurs make their dreams come true, along with the occasional fun video.
When she isn't working or wearing her mom hat, you can find her enjoying a glass of wine while binging her latest Netflix find.
---
**This post about a wahm success story may contain affiliate links, which means if you click one of our affiliate links and decide to make a purchase, we receive a tiny commission from the seller at no additional cost to you. We only share products and services we have used, tested, and love ourselves!**