EPISODE 84: SHOW NOTES
I've got another great mama on the show today to share with you her success story and how she built her freelance business by leveraging local networking groups! I can't wait for you to meet Meghan!
Meghan Kempf took a leap of faith to be at home with her son. Being pulled between work and not having child care for him made her question what she was doing. And then, finding out she was pregnant with her daughter brought on an even stronger desire to be home. Meghan saw my segment on Fox 4, joined my paid program Overwhelmed to Overbooked and the rest is history!
In this episode, Meghan shares tips on tapping into the local market, how to prepare for an in-person networking event, and how not to get discouraged if something isn't working for you. Head over to the Live Free Podcast Mastermind fb group and share your takeaways from Meghan's journey!
Want to hear more Success Stories from my paid program? Read more here! Thanks for spending time with me today – talk to you soon!
**This post about a wahm success story on local networking may contain affiliate links, which means if you click one of our affiliate links and decide to make a purchase, we receive a tiny commission from the seller at no additional cost to you. We only share products and services we have used, tested, and love ourselves!**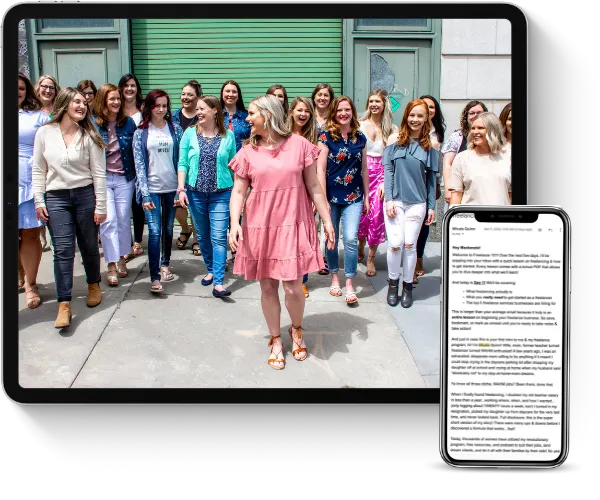 Learn how to earn $3K a month+ as a freelancer working less than 25 hours a week even if you think you have no experience.
This FREE crash course will teach you all about the freelance industry, so you can finally end the family vs. finances battle.
In this episode, we cover:
how Meghan built her freelance business in 3 months,
what to expect when joining a local networking group, and
how to prepare for an in-person networking event
Resources and links mentioned in this episode:
Connect with Meghan on facebook!
Find local networking groups in your area by googling or checking out MeetUp.com
Don't miss Monday's episode on how to handle someone telling you you're too expensive!