EPISODE 139: SHOW NOTES
Are you feeling discouraged right now? This is so normal and you aren't alone! In this episode, Kristen Smith shares how she went from a discouraged virtual assistant with 1 client to niching down into social media management and landing 4 clients in 5 weeks!
Don't give up in the middle of your discouragement, listen to this episode instead!
Tune in to hear what Kristen did to land clients, how she utilized Instagram, and what her biggest piece of advice is for other discouraged VAs.
Thanks for listening today! Read more success stories from the Overwhelmed to Overbooked Success Stories HERE.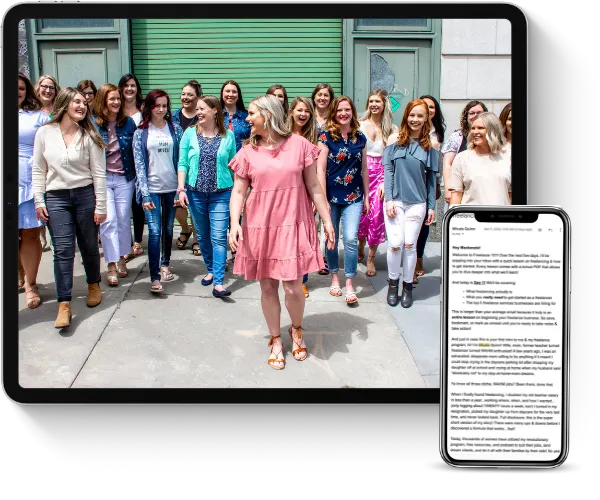 Learn how to earn $3K a month+ as a freelancer working less than 25 hours a week even if you think you have no experience.
This FREE crash course will teach you all about the freelance industry, so you can finally end the family vs. finances battle.
In this episode, we cover:
What Kristen did to land clients,
How she utilized Instagram, and
What her biggest piece of advice for another discouraged virtual assistant
Resources and links mentioned in this episode:
Head over to the Live Free Podcast Mastermind fb group to share that you listened and what you're doing to get unstuck.
For more information on the most comprehensive freelance program, Overwhelmed to Overbooked, click HERE!
More about Kristen:
When Kristen first discovered Micala's Overwhelmed to Overbooked course, she had a corporate marketing job. She would sit in her cubicle listening to podcasts about growing a business and dreaming of the day she would start my own.
Then, Kristen got pregnant! She decided it was time to start that business so she could eventually stay home with her baby boy.
Kristen started as a Virtual Assistant helping coaches and course creators. Through the experience she was gaining, she found that Social Media Management was what she really enjoyed. Kristen loves helping her clients strategize and promote their business through social media.
After experiencing a back injury, Kristen suddenly needed to go from my one client to several more because she had to start sending her baby to daycare. Shockingly, Kristen ended up going from one client to five clients within five weeks! Listen to this episode to hear what tools she used to grow her business!
---
**This post about a wahm success story may contain affiliate links, which means if you click one of our affiliate links and decide to make a purchase, we receive a tiny commission from the seller at no additional cost to you. We only share products and services we have used, tested, and love ourselves!**