EPISODE 111: SHOW NOTES
Can I really replace my 6 figure corporate salary as a freelancer? I get this question in my email all the time and this is what I say: YES! But don't take my word for it! On this success story episode I am chatting with Kayla Wells on her journey from googling "How to make money at home" to quitting her corporate job.
Kayla shares how she grew her online network and why she actually slowed her business down to focus on her full time job at one point. Her path isn't a straight one but no one's is!
My hope is that this episode inspires you to create the freelance business that is right for your family! Check out more of the Overwhelmed to Overbooked Success Stories HERE!
Thanks for tuning in today. Overwhelmed to Overbooked is OPEN right now until May 1st at midnight! I am so excited to welcome you into the course so don't miss your chance! Click HERE to join now or to learn more. Talk to you soon!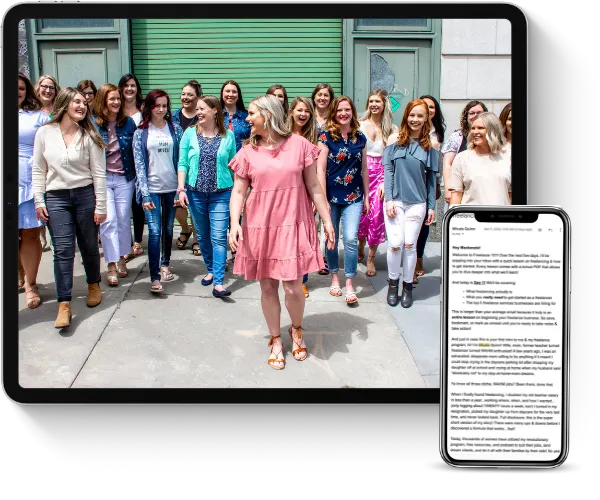 Learn how to earn $3K a month+ as a freelancer working less than 25 hours a week even if you think you have no experience.
This FREE crash course will teach you all about the freelance industry, so you can finally end the family vs. finances battle.
In this episode, we cover:
How Kayla is growing her business to replace her corporate salary plus benefits,
Why she slowed her business down to focus on her full time job at one point, and
What she is doing now that she left her corporate job and is pursing freelancing full time!
Resources and links mentioned in this episode:
**This post about a wahm success story may contain affiliate links, which means if you click one of our affiliate links and decide to make a purchase, we receive a tiny commission from the seller at no additional cost to you. We only share products and services we have used, tested, and love ourselves!**