EPISODE 63: SHOW NOTES
Get ready to be inspired, motivated, and ready to take action from this WAHM success story episode with Jessica Skelton!
Jessica shares how she got started, why she got started, and how she implemented what I teach in my paid program – Overwhelmed to Overbooked! If you're new around here, these episodes aren't just to gush about the program. They are also packed with what other mamas are doing to successfully become work at home moms!
I know this episode will encourage you but I also want you to think about how this is TRULY possible for you. If you have those thoughts of all the reasons you won't be successful like Jessica, know that those really aren't valid reasons, just mental blocks you CAN get through.
And we touch a lot on mindset in this episode with Jessica sharing what mindset issues she's had to overcome to reach success. Regardless of where you're starting, I want you to really consider if my program is the missing piece for you becoming a work at home mom. You don't only get amazing content but layers and layers of support (including the fb group everyone raves about!) Learn more about it here!
What is one thing that you can implement from this episode to get your business moving forward? Share it with me in the Live Free Podcast Mastermind or on instagram! I can't wait to hear from you! Thanks for listening!
**This post about Jessica's wahm success story may contain affiliate links, which means if you click one of our affiliate links and decide to make a purchase, we receive a tiny commission from the seller at no additional cost to you. We only share products and services we have used, tested, and love ourselves!**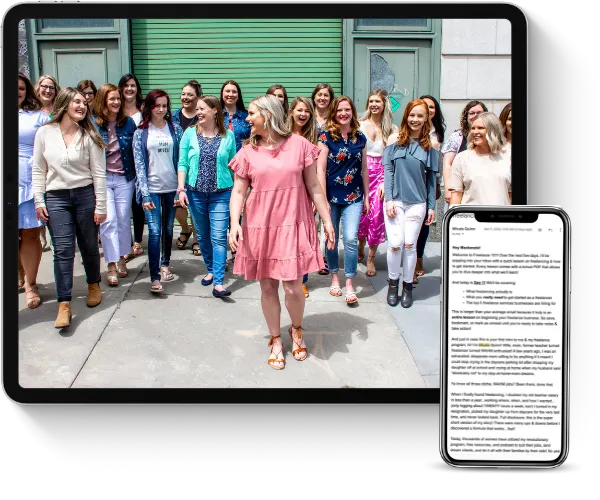 Learn how to earn $3K a month+ as a freelancer working less than 25 hours a week even if you think you have no experience.
This FREE crash course will teach you all about the freelance industry, so you can finally end the family vs. finances battle.
In this episode, we cover:
how Jessica learned so many of the skills she has today,
why doing IT ALL isn't the way to land clients or start your freelance business, and
how knowing her personal boundaries have helped Jessica maintain her mental health!
Resources and links mentioned in this episode:
Don't miss Monday's episode on the legal basics for freelancers!
Download the Ultimate Become a Work At Home Mom Starter Kit by clicking below!