EPISODE 130: SHOW NOTES
Jessica knew she needed a change from her corporate job. So using Overwhelmed to Overbooked, she launched a freelance business by helping Etsy and Shopify store owners!
As an e-commerce manager, Jessica helps Shopify and Etsy business store owners manage their daily operations and implements strategies to help grow their online businesses! She has over 5 years of experience in the e-commerce industry and she also runs her own e-commerce business, Xula Handmade (pronounced Shula) on both platforms so she knows the ins and outs of running an online business!
In this success story episode, Jessica shares her journey from being overworked and undervalued in her career to using her skills online and on her terms. She describes both the ups and downs of starting her business and where she sees her business growing in the future.
We hope that this episode inspires you to dive in and launch your own freelance business! Read more success stories from the Overwhelmed to Overbooked Success Stories HERE!
For more information on the most comprehensive freelance program, Overwhelmed to Overbooked, click HERE!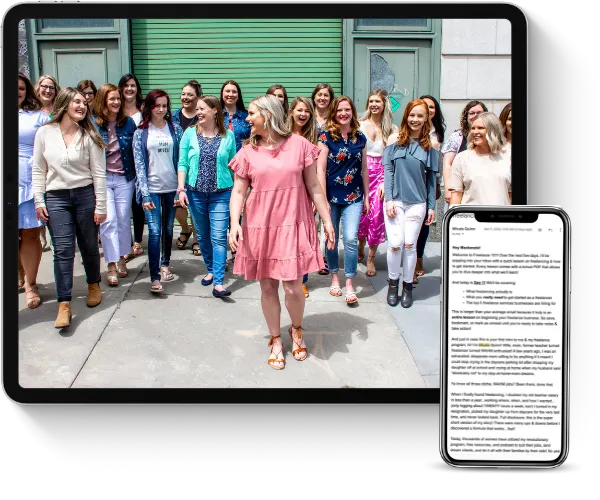 Learn how to earn $3K a month+ as a freelancer working less than 25 hours a week even if you think you have no experience.
This FREE crash course will teach you all about the freelance industry, so you can finally end the family vs. finances battle.
In this episode, we cover:
How Jessica used her skills to launch a freelance business helping Etsy and Shopify store owners,
The ups and downs of Jessica's journey starting a freelance business, and
Where Jessica sees her business growing from here
Resources and links mentioned in this episode:
Connect with Jessica on Facebook
Find Xula Handmade HERE
Learn more about Overwhelmed to Overbooked here!
**This post about a wahm success story may contain affiliate links, which means if you click one of our affiliate links and decide to make a purchase, we receive a tiny commission from the seller at no additional cost to you. We only share products and services we have used, tested, and love ourselves!**