EPISODE 73: SHOW NOTES
This is a special WAHM success story episode because I'm featuring not one but two awesome ladies from my paid program! Jennifer DeWitt and Amber Swindler were once strangers that decided to take a chance on each other and become accountability partners.
Listen in to hear the impact this has made in their businesses and personal life over the last year! In this episode, we cover how Jennifer and Amber started their accountability relationship, what their accountability calls look like, and how you can find an accountability partner for your business. Plus we cover how each of these ladies have found success individually as a bookkeeper and copywriter.
Thanks for spending time with us today! I hope you enjoy Jennifer and Amber as much as I did and will look for your own accountability partner in the Live Free Podcast Mastermind fb group! Put yourself out there and see what type of relationship you can build! Talk soon!
**This post about a wahm success story may contain affiliate links, which means if you click one of our affiliate links and decide to make a purchase, we receive a tiny commission from the seller at no additional cost to you. We only share products and services we have used, tested, and love ourselves!**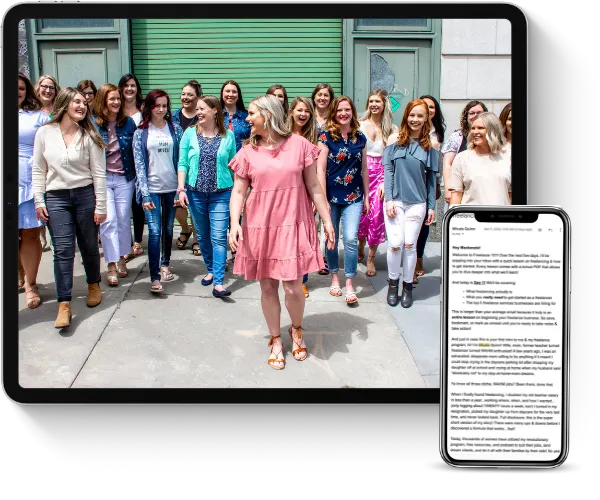 Learn how to earn $3K a month+ as a freelancer working less than 25 hours a week even if you think you have no experience.
This FREE crash course will teach you all about the freelance industry, so you can finally end the family vs. finances battle.
In this episode, we cover:
the impact accountability partners have had on Jennifer and Amber,
what their accountability calls looks like, and
how you can find your own accountability partner
Resources and links mentioned in this episode:
Connect with Jennifer and Amber on facebook!
Overwhelmed to Overbooked is reopening on October 15! Join the waitlist HERE
Interested in With Websites We Scale? Get on the waitlist for our next launch
Don't miss Monday's episode with Samantha Johnston on the missteps and mindset shifts she's had to make to grow her business!