EPISODE 99: SHOW NOTES
In this month's WAHM success story, I am chatting with Gabrielle Davis on how she put her fears aside to start her virtual assistance business. Plus, how she's been able to grow personally and professionally in the last 4 months.
Gabrielle shares how she got started freelancing the DIY route, why she didn't let her fear of Zoom calls hold her back, and how she has been able to move past her mindset block of raising her prices.
If you are just starting out and are getting stuck because of FEARS, this is an episode you won't want to miss!
And don't forget to come back later this week for our special episode 100! Thank you for showing up each week to learn, grow, and take action in starting and scaling your freelance business! I would not be here if it wasn't for YOU. Join us in the Live Free Podcast Mastermind fb group to keep chatting!
**This post about a wahm success story may contain affiliate links, which means if you click one of our affiliate links and decide to make a purchase, we receive a tiny commission from the seller at no additional cost to you. We only share products and services we have used, tested, and love ourselves!**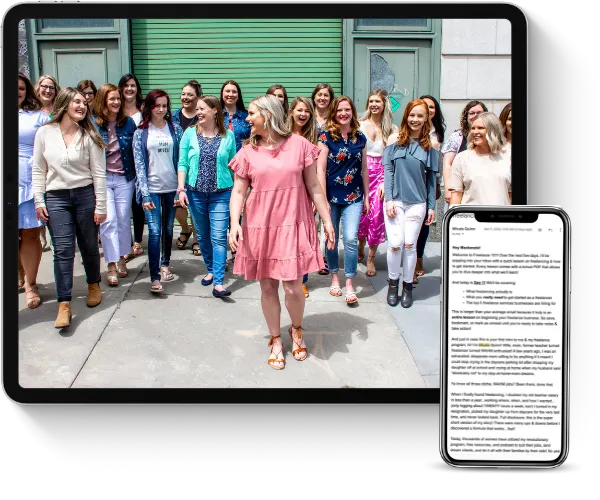 Learn how to earn $3K a month+ as a freelancer working less than 25 hours a week even if you think you have no experience.
This FREE crash course will teach you all about the freelance industry, so you can finally end the family vs. finances battle.
In this episode, we cover:
How Gabrielle found freelancing and why she started the DIY route,
Why Zoom calls were so uncomfortable for her and how she was able to put her fears aside, and
Gabrielle's motivations for continuing to grow her business while raising her 3 kids
Resources and links mentioned in this episode:
Connect with Gabrielle on Facebook
Read more Overwhelmed to Overbooked success stories here!
Watch my free workshop on how I ditched my soul-sucking 9-5 to work on my own terms as a freelancer and how you can too!