EPISODE 95: SHOW NOTES
Success stories are my favorite episodes because nothing beats real women sharing how they've started their profitable freelance business from home while raising their babies!
This episode is no different as I'm chatting with Emily Zutterman on how she has grown her business in just 3 months! Emily has a unique story in the fact that she loved her job and didn't want to leave it after having her son but when she delivered twin girls at 28 weeks, she couldn't imagine putting them in daycare 12 weeks later.
Listen in to hear how she landed her first two retainer clients, what she does as a general virtual assistant, and her tips for hitting the ground running!
I hope this episode inspires and motivates you to create a job and life that is best for YOUR family! You have control and you can do this!
Thanks for listening to this episode. Join us in the Live Free Podcast Mastermind fb group to keep chatting!
**This post about a wahm success story may contain affiliate links, which means if you click one of our affiliate links and decide to make a purchase, we receive a tiny commission from the seller at no additional cost to you. We only share products and services we have used, tested, and love ourselves!**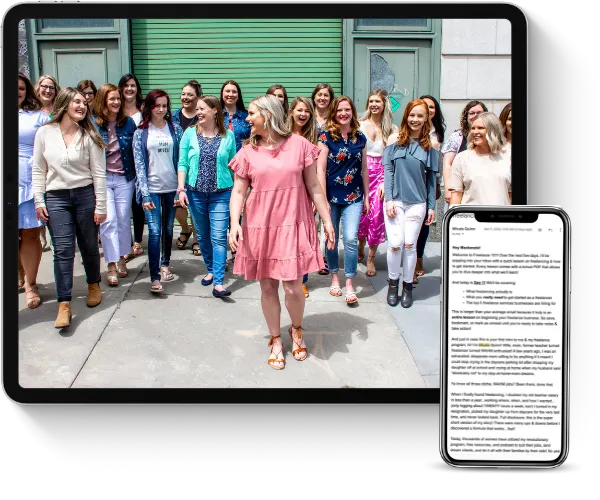 Learn how to earn $3K a month+ as a freelancer working less than 25 hours a week even if you think you have no experience.
This FREE crash course will teach you all about the freelance industry, so you can finally end the family vs. finances battle.
In this episode, we cover:
How Emily landed her first two retainer clients within her first month,
What Emily does as a general virtual assistant,
What the next steps for Emily's business could be, and
Tips for hitting the ground running as a virtual assistant
Resources and links mentioned in this episode:
Connect with Emily on Instagram or by emailing her at

[email protected]

Read more Overwhelmed to Overbooked Success Stories here!
Overwhelmed to Overbooked is open NOW until January 31st! Join HERE!