EPISODE 126: SHOW NOTES
Course creators are looking for a lot of help with their online courses and that's exactly what Courtney Ibinger does! In this success story episode, Courtney shares how she took her instruction design degree and turned it into a profitable freelance business.
One thing Courtney shares is that you DON'T need a degree to help course creators with their online courses. Tune into this episode to hear how Courtney has built her business over the last year and a half plus what services course creators are looking for.
Are you ready to pivot your business into a service you love? The first step is to start (if you haven't already!) Then head over to the Live Free Podcast Mastermind fb group and share where you want to take your business long term! I can't wait to chat with you over there. Thanks for listening!
Read more success stories from the Overwhelmed to Overbooked Success Stories HERE!
For more information on the most comprehensive freelance program, Overwhelmed to Overbooked, click HERE!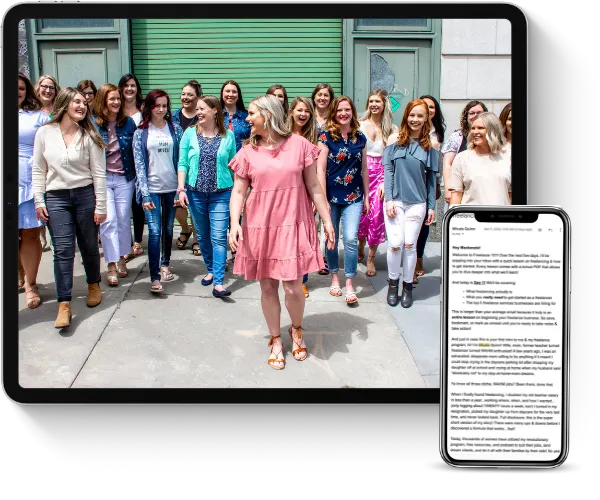 Learn how to earn $3K a month+ as a freelancer working less than 25 hours a week even if you think you have no experience.
This FREE crash course will teach you all about the freelance industry, so you can finally end the family vs. finances battle.
In this episode, we cover:
How Courtney pivoted from Pinterest Management to working with course creators,
The steps she took to manage project work over retainer work,
What skills you need to work with course creators, and
How you can help online course creators as a freelancer
Resources and links mentioned in this episode:
Get Courtney's 10 Steps to Setting Up Your Course Tech [Free Trello Board]
Join Overwhelmed to Overbooked here!
**This post about a wahm success story may contain affiliate links, which means if you click one of our affiliate links and decide to make a purchase, we receive a tiny commission from the seller at no additional cost to you. We only share products and services we have used, tested, and love ourselves!**