EPISODE 105: SHOW NOTES
No matter what you're doing, it never feels good to hear the word no. The word no can make us question ourselves OR we can use it to adjust our tactics and keep going!
In this WAHM success story episode, Christina Sidoti shares how she built her freelance business with two young kids and after hearing a lot of no's. She shares how she went from thinking she would never start a business to being a successful business owner. Plus, how she did this pregnant and then with two small girls.
Are you letting No's side track you from growing your business? Let Christina's story encourage you to ask for feedback and then keep plugging away! There are so many Yes' out there for you!
Thanks for hanging out with us today. Head over to the show notes for the links and resources mentioned in today's show and don't forget to share your fear in the Live Free Podcast Mastermind fb group. Talk to you there!
**This post about a wahm success story may contain affiliate links, which means if you click one of our affiliate links and decide to make a purchase, we receive a tiny commission from the seller at no additional cost to you. We only share products and services we have used, tested, and love ourselves!**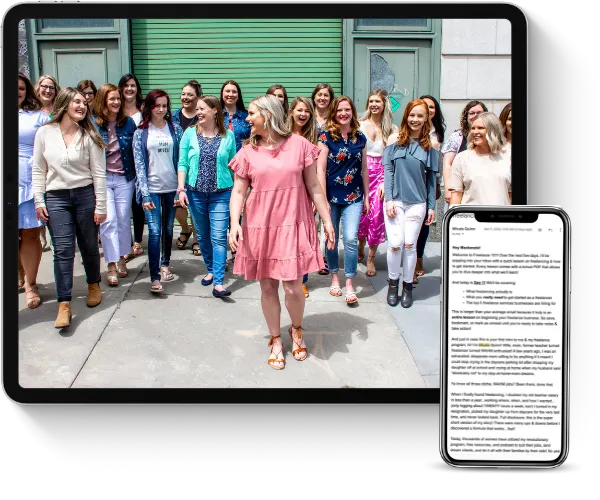 Learn how to earn $3K a month+ as a freelancer working less than 25 hours a week even if you think you have no experience.
This FREE crash course will teach you all about the freelance industry, so you can finally end the family vs. finances battle.
In this episode, we cover:
How to get through a period of hearing no from potential clients,
What to do if you are hearing no often, and
How Christina built her business around her second pregnancy and maternity leave!
Resources and links mentioned in this episode:
Read more Overwhelmed to Overbooked success stories here!
Watch my free workshop on how I ditched my soul-sucking 9-5 to work on my own terms as a freelancer and how you can too!