EPISODE 79: SHOW NOTES
Chelsea had recently left her teaching career to be a stay-at-home mom to her 3 kiddos when she found freelancing. Within the span of a couple months, she had landed 2 clients and a year later, has a total of 5!
Listen in to hear her tips on managing your time as a WAHM mom and marketing your current skills to potential clients. Chelsea's story will inspire you to dive in confidently and make your dream life happen!
Want to hear more Success Stories from my paid program? Read more here and learn more about Overwhelmed to Overbooked here!
Thanks for spending time with us today! I love sharing these bonus episodes with you. Head over to the Live Free Podcast Mastermind fb group to continue this conversation! Talk to you soon!
**This post about a wahm success story may contain affiliate links, which means if you click one of our affiliate links and decide to make a purchase, we receive a tiny commission from the seller at no additional cost to you. We only share products and services we have used, tested, and love ourselves!**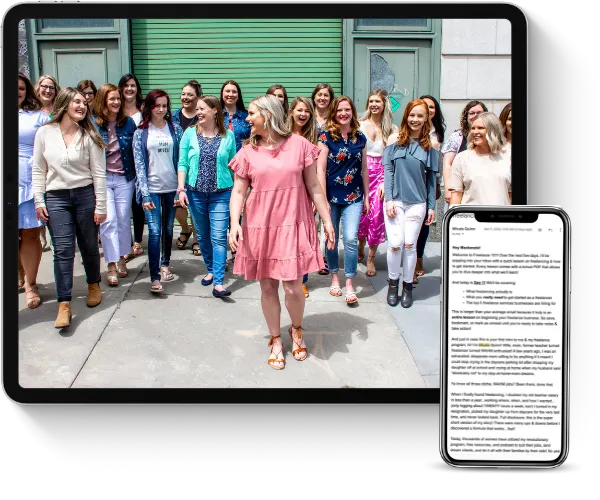 Learn how to earn $3K a month+ as a freelancer working less than 25 hours a week even if you think you have no experience.
This FREE crash course will teach you all about the freelance industry, so you can finally end the family vs. finances battle.
In this episode, we cover:
how to manage your time as a stay-at-home mom turned WAHM with multiple children,
how to market your current skills to potential clients, and
what to do when you're struggling to convert a potential client to a paid client
Resources and links mentioned in this episode:
Connect with Chelsea on facebook!
Get on the waitlist for the next launch of With Websites We Scale
Don't miss Monday's episode on how to ask for testimonials and leverage them!