I ask for feedback from the moms in my program, and I like to hear stories from moms who are maybe in month 1, 2, or 3.
Because I want you to see real-life stories and examples of the moms who are signing up and doing what I say is possible (and in this case — way beyond that!).
So in case, you are on the fence either about freelancing or my program I want you to meet Brittany!
Meet Brittany Hageman! 
She was on the fence about my course FOREVER. Seriously, we went back and forth for at least 3 months but still had the fear and doubt and questioning.
Probably a little bit of
Can I do this?
Is what Micala says realistic?
But finally, back in July, Brittany took a leap of faith, both in herself and in my course and signed up!
You guys, she wavered back and forth for so long, I didn't know what to expect, but I just want to say WOW I have been blown away at her progress in just 1.5 short months.
She dove in right away, went through the modules in like 2 weeks. Asked multiple questions in the course Facebook group EVERY day. (Asking questions and seeing help is a sign of success BTW and is a strength). And made her money back and then some within a month of signing up.
Who is Brittany?
She is a wife to Deron of 7 years and mama to three darling daughters who are her pride and joy! Her background is in healthcare, where she previously worked full time as an Occupational Therapist.
With the birth of her first daughter, her and her husband always knew she would stay home once they had kids.
She tried to work part-time to bring in extra income but couldn't stand to leave her daughters at daycare.
So she searched for work at home jobs. Found my program and she says "it's been one of the best decisions I've ever made!"
Why Brittany signed up for my program?
"I wanted a reliable work from home job where I was in control of my hours/schedule and I could make a decent income. I wanted to bring in extra money for our family so we can give our daughters the best life possible."
Before my program, she had a lot of stress and worry about never having extra money… Being a family of 5 is expensive, and being a one family income is really hard sometimes!
What she does now
She's a task-oriented VA working with online entrepreneurs helping them with any VA services needed!
She is still doing a wide variety of general VA services- whether that is general administrative tasks, business research, graphic design, etc. but she is really starting to enjoy Social Media, especially content creation and management!
How she got started… her first couple of weeks in the program:
Brittany said: "I am a dive right in and don't look back kind of girl so that's what I did! I spent a lot of time those first two weeks getting my business up and running and learning as much as I could and it paid off because I landed my first client just 2 weeks after signing up!"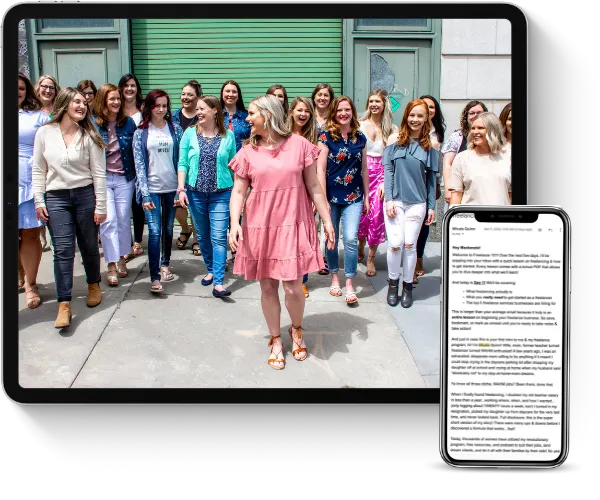 Learn how to earn $3K a month+ as a freelancer working less than 25 hours a week even if you think you have no experience.
This FREE crash course will teach you all about the freelance industry, so you can finally end the family vs. finances battle.
"I have learned so MUCH! I have really gained so many new skills as a VA. I have met some AMAZING, supportive women in the group who have helped me succeed. I have landed clients and gained confidence!"
In just one short month since she started the program, Brittany landed 2 clients and made $700, more than the investment of the course! And in the second month, she landed a major retainer client at 40 hours a month!
In less than seven weeks she had earned $2100 with a good portion of that being recurring retainer revenue!
What are the Biggest Lessons Brittany has learned since taking my course
"I've learned that if I believe in myself, I can do anything I put my mind to. I have skills to offer and still a lot to learn but I know I can handle anything thrown my way."
And guess what?!
You can do this too!
If you are on the fence… what is it?
Is it fear?
Is it uncertainty?
Is it the monetary investment?
Is it something we can chat about via email? Shoot me an email @ hello @micalaquinn.com and we can chat about it!
Looking for a successful and motivated VA to join your team?
Check out Brittany's page:https://www.facebook.com/BrittanyHagemanVA or email her at, [email protected].