EPISODE 157: SHOW NOTES
Amber jumped into freelancing at the end of Nov 2019. In less than a year, she left her job as a teacher, had her first son, and quadrupled her teacher income (all in 2020!) In this episode, Amber shares her story from teacher to freelancer, how she landed her clients, and where she sees her business going from here.
Amber works with TpT authors as a social media manager and copywriter, is a wife to a rancher in north central Kansas, and runs her business while her son sleeps.
Want to hear more Success Stories from my program, Overwhelmed to Overbooked? You can do so HERE!
Thanks for listening today! Head over to the Live Free Podcast Mastermind on fb and let us know who your ideal client is! Brainstorm your niche and let us help you nail this down! Talk to you over there!
Have questions? Send me an email at [email protected]!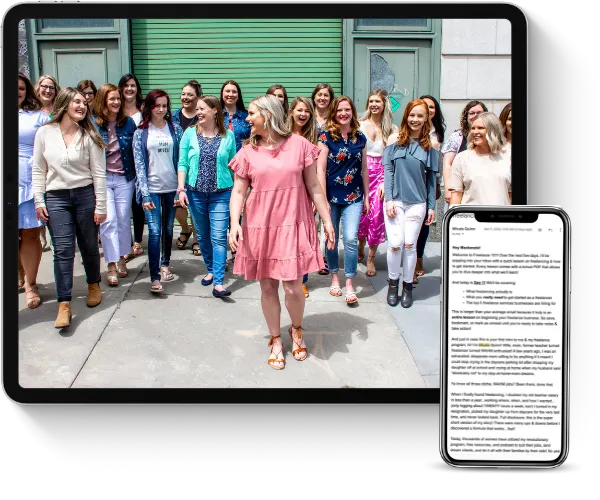 Learn how to earn $3K a month+ as a freelancer working less than 25 hours a week even if you think you have no experience.
This FREE crash course will teach you all about the freelance industry, so you can finally end the family vs. finances battle.
In this episode, we cover:
How Amber went from teacher to freelancer,
What Amber did to land her first discovery call,
How she turns her fears into fun challenges,
Why she chose the niche that she did, and
How she sees her business growing this year
Resources and links mentioned in this episode:
Launch a profitable freelance business and ditch your 9-5 FAST with my proven program, Overwhelmed to Overbooked! Check it out HERE
Don't miss our last episode on finding replacement clients ASAP!
---
**This post about teacher income may contain affiliate links, which means if you click one of our affiliate links and decide to make a purchase, we receive a tiny commission from the seller at no additional cost to you. We only share products and services we have used, tested, and love ourselves!**