The most rewarding part of my business is seeing the success in the women that take my course. They each have their own unique story and reasoning for why they wanted to start their freelance business.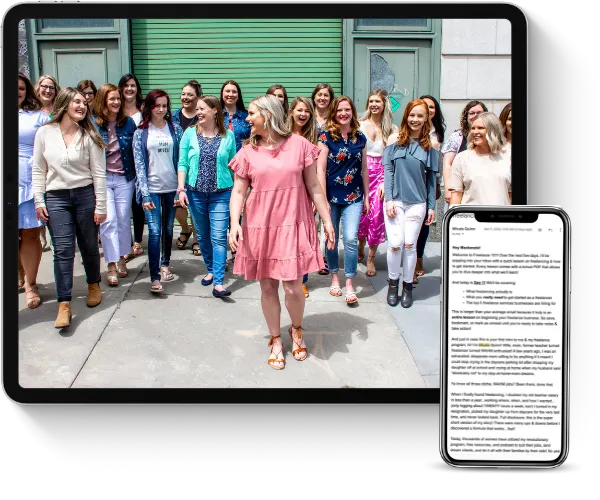 Learn how to earn $3K a month+ as a freelancer working less than 25 hours a week even if you think you have no experience.
This FREE crash course will teach you all about the freelance industry, so you can finally end the family vs. finances battle.
Are you worried if by taking my course you'll need to invest in a fancy website, gain a HUGE social media following and put together a large email list? I'm here to reassure you that no, that is not the case! Check out my latest blog on that here. Most of my momma's that had instant success did so without anything fancy. They just made connections and put themselves out there.
In this blog post I'm featuring one of those amazing momma's. Meet Lauren Wrighton!
A Virtual Assistant and Email Marketer for Health and Business Coaches!
She's a task-oriented Va working with creative entrepreneurs on their opt-ins, lead magnets, and email marketing sequences!

When she's not helping clients with their online businesses, she's raising two young daughters and teaching group fitness classes!
Before My Program: I had been freelancing for 2+ years but I was not earning what I thought I was worth. I felt like I was always working and not getting the financial benefit or enjoyment that I expected. Now I love my clients and am making what I deserve!
In less than 3 months of starting the course Lauren landed 2 clients and is continuing to grow in her monthly revenue!
Taking my course gave Lauren the confidence and tools to approach job opportunities and has connected her with other moms that are building similar business which offers so many business growing benefits! Lauren is currently focusing on email marketing with some social media management! She has  helped a handful of people understand what an opt-in is, a lead magnet, and a sales funnel. Her favorite client right now is a Parent Coach. "I love how our relationship is personal (and professional) unlike my previous interactions on freelance sites."
What are the Biggest Lessons Lauren has learned since taking my course: TO NETWORK! This is 100% due to Micala. I have also learned to JUST START. I knew this but didn't practice it until I was going through Micala's course and noticed she just started. Her videos weren't perfect but she started and I was there as a paying customer learning from her. I loved that her videos weren't polished, it was a big lightbulb moment for me and it led me to respect her a ton.
Looking for a successful email marketing strategist to bring onto your team? Check out Lauren's page: www.facebook.com/lwrighton  or send her a message at [email protected]
Not ready for a course? Check out our free resources here!