Are you interested in starting your own freelance business and becoming a work at home mom, but skeptical of the possibilities and opportunities out there?
Or maybe you know you want to work at home, and looking into signing up for my program, but want to hear what other moms were able to accomplish because of this course first before you invest!
Or maybe you somehow landed on this page and this is your first taste of the work at home mom life… in that case, once you're done reading about Dalaina's story you should check out this free training all about how to become a work at home mom. I'll teach you the 5 things you need to launch your freelance business, what the freelance industry is, and how to launch your business without wasting time or money!
Meet Dalaina: from nurse, to business administrator to virtual assistant!
Learn from Dalaina: she finished the course in THREE days, had her first discovery call within two weeks of signing up, and that call turned into her first client!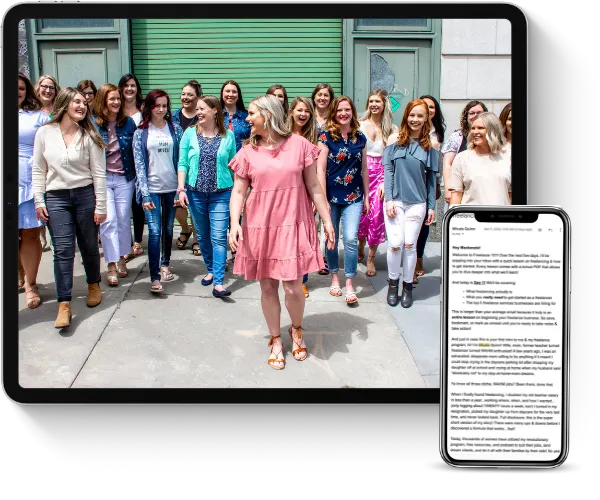 Learn how to earn $3K a month+ as a freelancer working less than 25 hours a week even if you think you have no experience.
This FREE crash course will teach you all about the freelance industry, so you can finally end the family vs. finances battle.
Dalaina has a Bachelor's Degree in Administration and is also a nurse. While she loved nursing and helping people, she discovered that she has a passion for business! She was an Administrator for over 5 years for a Skilled Home Care Agency, but now she is a Virtual Assistant helping others achieve their goals whether it be personal or professional.
She signed up for the program in March of 2018, and in less than 3 months was making over $2,500 working part-time hours from home!
Initially, she joined because she looking for a way to be able to keep her daughter out of daycare and still be able to contribute to her household income.
Her biggest lesson learned since starting her own business: I deserve this. I have worked my butt off my whole career for others and I finally am putting that effort into me and my own business. Believe in yourself & never set a limit for yourself!
What she says about how the course has impacted her: All I have ever wanted to be was a mommy, so when my husband and I found out we were pregnant, I spent months racking my brain on how to keep her out of daycare. With the help of Micala and the program, I had the tools and encouragement I needed to make the jump and start my own business!
September 27th, 2018: Update on Dalaina
I just got done interviewing her for the podcast and six months in, she is making $3.5K a month working 17 hours a week!!!
Looking for an awesome virtual assistant to bring onto your team? Check out Dalaina's website here or send her an email at [email protected].   
Click here to check out the program that helped make all this possible for Dalaina!