Almost every day I read a post from a friend or a fellow mom and it goes something like this: "I had my baby 3 months ago and am supposed to go back to work soon. I can't imagine leaving my child full-time. How can I stay at home and bring in income?"
Sound familiar to anyone?? Perhaps this is you or was you and are still looking for a way out!
You have come to the right place! I help moms earn a steady income while getting to be at home with their kids and I love showing you success stories so you can see just how possible and attainable this truly is!
A few weeks ago, we looked at Dalaina's success story. You can catch her story here! But today I want you to meet another awesome and super successful work at home mama!

Meet Brenna: Wife, Mama, and Creative Entrepreneur!
Brenna provides Administrative Support, Social Media Management, and Writing services to her clients and also blogs and teaches Baby+Me Yoga to help empower other Moms. Brenna became a freelancer when she had her daughter in March 2017 and now is able to stay home with her daughter and travel with her husband because of her freelance career.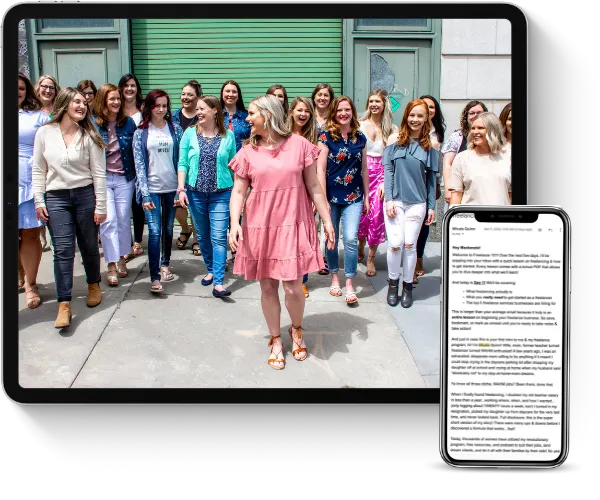 Learn how to earn $3K a month+ as a freelancer working less than 25 hours a week even if you think you have no experience.
This FREE crash course will teach you all about the freelance industry, so you can finally end the family vs. finances battle.
Why Brenna signed up for
the program
:
"I signed up for the program b/c – I was ready to kick my freelance career into full gear so I could stay home with my daughter, travel with my husband, and do fulfilling work. I needed to find my next breakthrough."
Before my program, Brenna had freelance gigs here and there and was stuck working a job that left her feeling conflicted and unhappy: "I was battling terrible Post Partum Anxiety (leaving my daughter was terrible) and my marriage was being affected by the work I was bringing home."
In less than 3 months she was able to resign from her job to stay home with her daughter!
Within 2 weeks of starting she made back the investment from the course: "I have by far exceeded my income at my office job. I will get to work 5-19 hours a week and experience abundance and freedom!"
What she says about how the course has impacted her: "I am more intentional with my time, mindful and calm with my daughter, and I am able to nurture my marriage and make sure my husband's love tank doesn't run dry. I am so much happier as a whole. I also have tapped into creative skills that are flourishing and bringing so much joy to me."
Looking for an awesome virtual assistant to bring onto your team? Check out Brenna's page: http://mommacamping.com/ or send her a message at [email protected]
Not ready for a course? Check out all of our free resources here!