EPISODE 15: SHOW NOTES
If you have been following the podcast, you know that we are in the middle of a series on how to get started…
We started episode 11 talking all about the essentials you need… (service, clients, visibility, priority, confidence.)
Episode 3— is all about how to determine what service you should offer.
Episode 13, is all about the different routes to go to find clients…
Check out those episodes if you missed them!
And so now today… we are talking all about visibility, specifically how you can get visibility without spending a ton of money! Because if you are in the start-up phase, you probably don't want to spend a ton of money until you are bringing money in!
**This post about how to get visibility for your freelance business may contain affiliate links, which means if you click one of our affiliate links and decide to make a purchase, we receive a tiny commision from the seller at no additional cost to you. We only share products and services we have used, tested, and love ourselves!**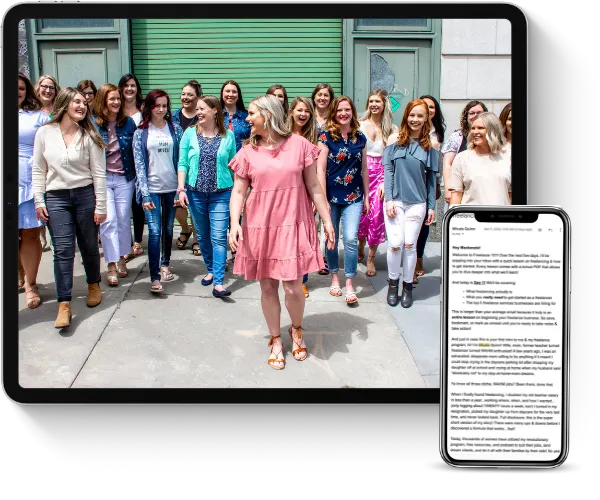 Learn how to earn $3K a month+ as a freelancer working less than 25 hours a week even if you think you have no experience.
This FREE crash course will teach you all about the freelance industry, so you can finally end the family vs. finances battle.
In this episode, we cover:
what visibility it
what you don't need to waste money and time on when you are getting started
what you should spend your time and money on
four ways to get free visibility
action steps to take
Resources and links mentioned in this episode:
What now:
If you need help or want some feedback, come ask us in the facebook group!