This post about what a virtual assistant is may contain affiliate links, which means if you click one of our affiliate links and decide to make a purchase, we receive a tiny commision from the seller at no additional cost to you. We only share products and services we have used, tested, and love ourselves!
If you are listening and thinking to yourself, "Hey, I'd like to be a VA, but aren't really sure what that entails, then you are going to want to stay tuned!
Or if you are sitting there still telling yourself the lie that, "I have no skills to offer in the online space!" Then you definitely need to listen to this episode.
I am a FIRM believer that no matter what your current job experience entails, you have a service to offer in the online space. And you can take that and launch a profitable freelance business.
And in episode 3, I shared my process for how to determine what service you should start your business with, if you missed it, go listen to that one first!
But if you did listen, you know that there are some instances where it is very obvious what business you should launch and in other cases, maybe not so much.
For example, I had to be creative in how teaching made me an excellent freelancer, and for a lot of moms that it is not so black and white for, I recommend starting out as a VA… ANYONE can be a VA!

In this episode I cover:
What is a virtual assistant?
What do they do?
Who can be one?
Why someone would hire a beginner with NO experience.
Qualities that make someone a great VA.
What programs you should know and/or learn
Conclusion:
I hope you enjoyed this episode. I hope that it was helpful, and you understand what a VA is now. I also hope that this episode gives you the confidence that YOU can do this. You can be a VA. There is someone out there waiting for you to help them in their business!
If you did find this helpful, I would so appreciate any shares, shout-outs, or tags on social media!
And don't forget about our giveaway this first month to celebrate our launch!
One of the ways to enter is leaving a comment on this episode's blog post on our website. Tell us your takeaway, ask follow-up questions, or just give some encouragement… EVERYthing helps!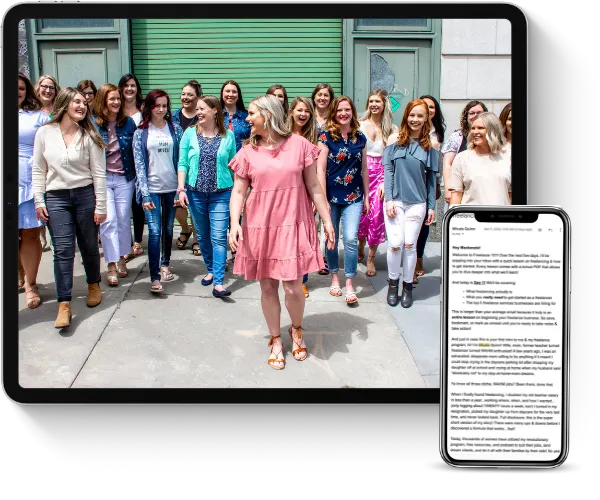 Learn how to earn $3K a month+ as a freelancer working less than 25 hours a week even if you think you have no experience.
This FREE crash course will teach you all about the freelance industry, so you can finally end the family vs. finances battle.
And as always, don't forget to share this episode with your friends and family!
Resources mentioned in this episode: