Most women starting a virtual assistant business want to know, "do I need a virtual assistant website before starting my freelance business?"
The answer is no! You do not need a website when starting your business. And the reason is that it may distract you from actually starting your business.
Want to know more? Follow along as we discuss virtual assistant websites. When will you need a website? And how to start a business without a virtual assistant website.
How to Start a Virtual Assistant Business
When you first start a virtual assistant business, the first steps you want to take are:
Name and legally set up your business
Create your services and packages
Determine how you will find clients
Define your processes to wow clients with deliverables
The  Live Free Academy teaches you all these steps! The training goes through step by step, in an 8-step process to set a business foundation, choose your freelance services, and more!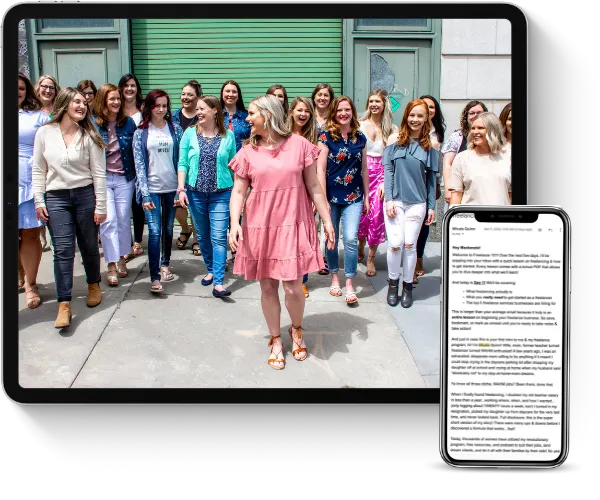 Learn how to earn $3K a month+ as a freelancer working less than 25 hours a week even if you think you have no experience.
This FREE crash course will teach you all about the freelance industry, so you can finally end the family vs. finances battle.
How to Find Clients Without Experience
Have you been thinking about starting your virtual assistant business, but you're hesitant because you don't have any experience?
That's okay! You don't need experience! You already have skills from past jobs, life experiences, and school that will help you offer services to other businesses.
Download the Freelance Crash Course for free to help you brainstorm what skills you have that can transfer into the freelance world!
So, what are ways to find clients after setting up your business and nailing down your services?
virtual assistant website
virtual assistant portfolio
networking
Before choosing web hosts and picking themes, determine if it's the right time to create a website.
There's more to if you build it, they will come.
And a website is an expense you will have to deduct from your income plus subtract time to work in your business.
There are so many avenues for finding clients without a website.
1. Networking on Facebook, LinkedIn, and social media sites
Marketing on social media is a great way to get your name out to businesses. Establish a business presence with a free FaceBook business page.
Answer common industry questions on YouTube.
Or LinkedIn has a job search function to search for available "virtual assistant" positions.
Facebook is a popular choice among new freelancers and virtual assistants without websites. You can join groups your ideal client will likely hang out in and begin networking by providing value in group posts. For example, answering questions and commenting on relevant posts.
2. The Live Free Hire Form
Live Free Academy members instantly gain access to The Live Free Hire Form! This board is a free resource for members to utilize when searching for leads to their perfect clients and sets up an avenue to contact them. The form is free for business owners, and new jobs are posted daily!
3. Personal Networking
This option is tough for some and easy for others. Promote your business by reaching out to family, friends, or acquaintances. It can be awkward initially, but many Live Free moms have found their first client this way!
If you don't want to network through family and friends, you can always network at kid's activities or other get-togethers.
How to Show Prospective Clients Work Without a Virtual Assistant Website
Signed your first client or traded work for a testimonial? Now you have something to show prospective clients! Yay!
But how do you show off the work without a virtual assistant website?
You have a couple of options to do that.
1. Virtual assistant portfolio
The portfolio is a collection of work and information that tells a client about the services you can provide for them, the work you've accomplished, and who you are. A program like Canva makes it easy to create one and export it to a PDF or shareable document.
Typically, you want to include the following in a portfolio.
relevant skills
software and systems knowledge
relevant education
about me
services, packages, and pricing
testimonials
call to action
contact information
Want more help building a portfolio? In the Live Free Academy, you'll get access to Step 5. It's all about creating your portfolio — with bonus templates you can download and make your own!
2. Business Facebook page
Creating a business page on Facebook is simple and free.
You can brand it, update your services and add posts with information on how you helped businesses.
Then invite people to like your page to get some eyes and attention on it.
3. LinkedIn business profile
On LinkedIn, you can create a professional-looking profile and update your services, experience, and network all in one place. The more connections you make, the more LinkedIn members will see your profile.
LinkedIn is known as the professional/work social media platform, so there are bound to be business owners looking for a freelancer to hire!
When to Start a Virtual Assistant Website
Eventually, there will be a time that's right for you to create a website for your virtual assistant or other freelance business.
But how do you know when that time comes? A few things to consider are the costs associated with creating and running a website. Those are unnecessary expenses which may mean you want to wait until you hit your income goals before bringing them on.
One other thing to think about is the purpose of your website. Is it to get more clients? Showcase your work. Or scale?
Whatever your reason, if you are wondering if the time has come to create a virtual assistant website for your freelance business. You need to head to the  Live Free Podcast episode with guest Mackenzie Mader who answers all these questions about building your virtual assistant website!