Who doesn't want to be more productive?
We all do.
But as virtual assistants + stay at home moms, we wear a lot of hats. Which means we have a lot to balance.
In fact, there are probably 100 things battling for your attention at this very moment. Am I right?
So, what do you do to focus? To block out the other 99 things that are grabbing your attention while you try and squeeze a little bit of work into your day?
If you are looking for a few virtual assistant tips to increase productivity, then you are in the right place. Today we are talking about how to maximize your working hours so you can be more productive.
Virtual Assistant Tips for Increasing Productivity
Communicate with clients
As a virtual assistant, it is important to have good communication between you and your clients.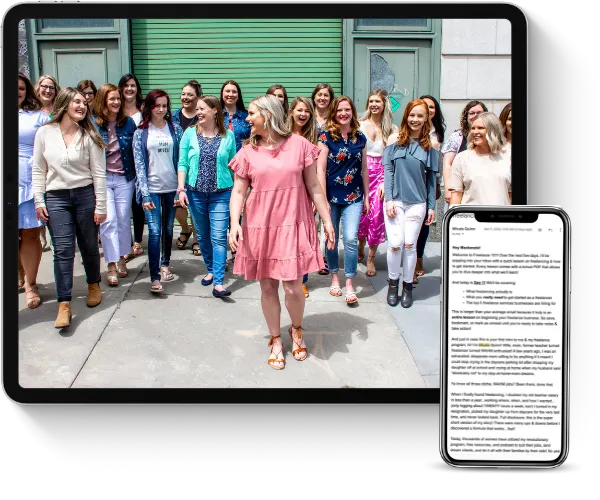 Learn how to earn $3K a month+ as a freelancer working less than 25 hours a week even if you think you have no experience.
This FREE crash course will teach you all about the freelance industry, so you can finally end the family vs. finances battle.
To check in regularly, you can either send a quick email, chat message or hold a meeting. Make it clear what tasks you need to execute and by when.
Follow documented processes
Many business owners have documented their processes for a virtual assistant. So, rather than recreating the wheel, follow their process!
It's how the client wants the work completed; plus, you won't spend extra time learning how to do it!
Take advantage of time-saving technology
Love it or hate it, technology usually saves us time. So why not embrace it? You can use apps like password keeper to safely save passwords for your business or a client.
Then instead of looking up the password every time you need to log in, an app like Lastpass will let you autofill and sign in.
Other time-saving technology includes bookmarking the favorites bar. I bookmark websites I often use for quick and easy access.
Pro virtual assistant tip: You can create folders in the favorites menu. Allowing you to group the sites each client uses often.
Work when you are most productive
I should probably add (if you can) in parenthesis here because we, busy moms and virtual assistants, can't always work when we are the most productive.
I don't know about you, but when my kids are awake, they command my attention. Whether or not I'm in working mode. So, I try to work around when they are awake.
For example, I am most productive in the early mornings. After sleep + morning coffee is when my brain functions best. So, sometimes I get up at 4 AM to write a blog post before everyone else is up.
Others may be energized and most productive at night. So, many virtual assistants choose to work after everyone else in bed.
Prioritize your tasks with a list
Rather than keeping your to-do list on a running tab in your head–write it down. Keeping a list of things due and when they are due can help you keep all tasks organized.
You can then prioritize the tasks that are easy to accomplish, quick to finish and the ones due the soonest. These three criteria will help to prioritize your to-do list and make the most of your working time.
Batch work
If you haven't heard about batching, you are in for a treat. It's a game changer when it comes to virtual assistant tips that increased my productivity!
You group similar tasks and do a big batch of them all at once. So, if you are creating social media posts for a client, for example, instead of creating the copy, finding a photo, then scheduling it, you would write five posts' copy, then find photos for all 5, then schedule out those five posts.
It helps with productivity because switching tasks take up time. You have to open all new apps and documents and change your mindset. However, batching allows you to create a bunch of posts in bulk faster than doing them one by one.
Want More Virtual Assistant Tips?
If you haven't already, I hope you try implementing these into your business! They are some of the favorites from the Live Free Academy Facebook group.
Want to learn more about starting a virtual assistant business? The 8-step Overwhelmed to Overbooked framework inside the Live Free Academy course has all the tools you need to start and scale your profitable freelance business today!