Highlights:

3 virtual assistant skills you need for freelancing.




2 tips for creating an organized routine.




2 reasons businesses hire beginners over experts!
Are you thinking about becoming a freelancer but wondering if you have virtual assistant skills?
No more need to worry! Today I'm breaking down the skills you need to become a freelancer and make your work-at-home dreams come true!
This is one of the most frequent questions I get. What skills do I need to become a virtual assistant? Or how can I freelance when my degree is in (You fill in the blank!)
I started as a virtual assistant and came into it with a background in teaching high school students English Literature. So trust me when I say, you do have virtual assistant skills that you can leverage to find clients and make freelancing work for you!
So let's jump in!
Most internet searches and other VA training sites will say you need these skills to become a virtual assistant.
Communication
Management
Time management
Social media
Bookkeeping
Writing
Project management
Organization
Web design
This is true and false. Some of these virtual assistant skills you will need to become a VA, and some you don't really need–at least to start.
If you want to specialize or niche your services, then yes, you will need some of these specialty skills, like social media or bookkeeping. But we'll go into how to learn these skills later on.
For now, let's focus on the virtual assistant skills you need to get started today.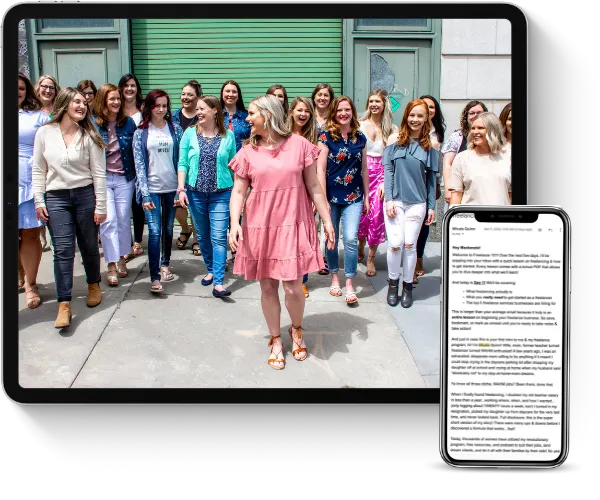 Learn how to earn $3K a month+ as a freelancer working less than 25 hours a week even if you think you have no experience.
This FREE crash course will teach you all about the freelance industry, so you can finally end the family vs. finances battle.
There are 3 main virtual assistant skills that you need to begin:
Problem-solving
Communication
Organization
1. Problem-solving
Most of the women in the Live Free Academy are concerned at first that they won't be able to find a job as a virtual assistant because no one will want to hire them with no experience.
That is simply not true! There are always jobs on the Live Free Job board from business owners looking for a beginner. And there are a few reasons for this.
Beginners are easier to train.
They don't have a large budget, and experts cost more than beginners.
There is a question on the Live Free job form that asks, "Are you open to hiring a beginner?"
In response to that question, I often see, "Yes, as long as they are a problem solver." When you are working as a virtual assistant, you will do well to have good problem-solving skills.
A desire to try and figure out the answer is more important to a business owner than always having the answer.
2. Communication
Communication skills are not only a virtual assistant skill, but also a life skill.
As a virtual assistant, you want to keep the lines of communication open with your clients. This is going to help you gain their trust and learn more about how you can help them.
So communicate early and often to help make your clients' lives easier, gain their trust, and excel as a virtual assistant.
When you are a virtual assistant, you will want to be open and share with your clients what programs and tools you use for communicating with them, your processes, and the timelines so that everyone (you and your client) is on the same page!
3. Organization
Keeping a strong organization system will help you keep track of your projects, time spent on projects, and even with tracking your client outreach.
Using a system like Trello, you can organize your tasks for each client to include due dates, submittal information, contact information, reminders, or any other details about the task that you might need all in one place.
Most of these systems can include teams so you can work together to complete a project and communicate with other team members when they are up to bat.
Two tips for creating an organized routine are:
Create to-do lists.
Create processes for completing tasks.
Specialize Your Virtual Assistant Skills
More experienced virtual assistant skills can vary, but will include some of these specialized skills:
Customer service
Inbox management
Social media management
Pinterest
Copywriting
Bookkeeping
As a reminder, you do NOT need to have these skills to start your freelance business! However, when you are ready to niche your services, advance your skills, and raise your rates you want to learn more in-depth about one or more of these specialized skills.
How to learn specialized skills
You can learn more about leveling up your skills with these methods:
Define Your Virtual Assistant Skills
To determine what virtual assistant skills you have, first think about all the previous jobs you have held. What responsibilities did you have for those positions? What daily responsibilities do you currently have? What are you naturally good at?
Answering these questions is the first step in my Skills Assessment guide to figuring out your virtual assistant skills.
Do you want more guidance on becoming a freelancer? Download the Launch Fast Crash Course here!
My program the Live Free Academy is a step-by-step course that can help you at every stage of starting and growing your business!