Virtual assistant services are in high demand. Did you know? If you have been around the Live Free Academy blog or Instagram before, then you probably do.
Because around here, freelancing is something I want to share with everyone! Virtual assistants (VA) are the best for online businesses, startups, mom-and-pop shops, and corporations. Yes, VAs can provide benefits to even the big corporations.
And you can make good money as a virtual assistant offering administrative, marketing, or design services (among others) to businesses.
So how do you offer virtual assistant admin services? How do you get started? What other services can you provide as a virtual assistant? And what services are in high demand?
Keep reading as we cover all those questions in this blog post about in-demand services; and how you can start offering virtual assistant admin services!
Ultimate List of Virtual Assistant Admin Services
Administrative Services
1. Customer Service
2. Email correspondence and organization
3. Live webinar assistance
4. Calendar management
5. Data entry
6. Creating PowerPoint and other presentations
7. Appointment setting
8. Supply ordering
9. Arranging and coordinating interviews
10. Taking minutes or meeting notes
11. Client onboarding
12. Lead follow-up
13. Coordinating travel arrangements
14. Creating resumes
15. Uploading YouTube videos
16. Coordinating listings for Realtors
17. Product launch coordination
18. Event planning
19. Giveaway coordination
20. Google Drive organization
21. Cloud files organization
22. Personal assistant services
23. Translation services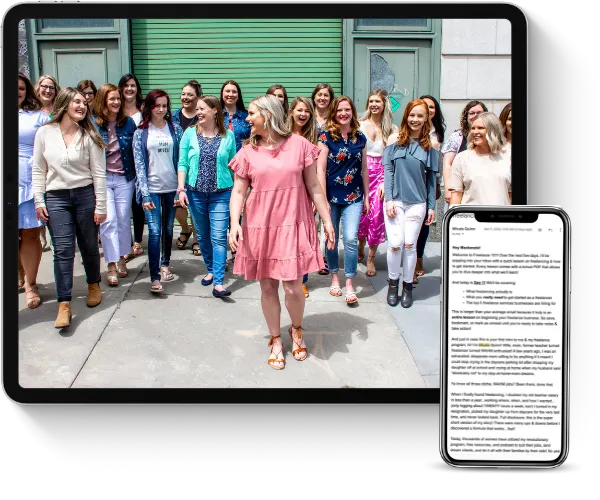 Learn how to earn $3K a month+ as a freelancer working less than 25 hours a week even if you think you have no experience.
This FREE crash course will teach you all about the freelance industry, so you can finally end the family vs. finances battle.
Marketing Services
24. Researching speaking opportunities
25. Researching and coordinating guest post opportunities
26. Product research
27. Market research
28. Sponsorship research
29. Product-price comparison research
30. Promotional research
31. Promotion program coordination
32. Competitor research
33. SWOT analysis
34. Coordinating pitch and outreach campaigns
35. Sales funnel creation and management
36. Lead generation
37. Marketing strategy and analysis
Podcast
38. Researching and coordinating guest post opportunities
39. Script writing, guest questions, and talking points
40. Repurposing old podcast content
41. Pull content and sound bites for promotions and audiograms
42. Creating show notes
43. Uploading to podcast host apps
44. Image creation for landing pages
45. Keyword research
SEO
46. Keyword research
47. Topic research
48. Competitor research
49. Analytics tracking
50. Blog post/website optimization
51. Blog post/website copywriting
52. Blog post/website formatting
Design
53. Creating graphics for blog posts, Pins, or social media
54. Creating graphics for email, print, and newsletters
55. Designing business cards
56. Designing logos
57. Designing menus
58. Designing building signage
59. Creating slides and images for webinars, workshops, and training
60. Creating website graphics
61. Creating branding and style guides
62. Designing printables
63. Ad graphics
Technology
64. Formatting and coding for websites, apps, and plugins
65. Video editing
66. Webinar setup and troubleshooting
67. Analytics reporting
68. Creating UTM goals
69. Creating and/or migrating email lists
70. Creating newsletter opt-in forms
71. Installing and managing shopping carts and payment processors for websites
72. Website maintenance and troubleshooting
73. Affiliate program creation and management
74. Landing page and squeeze page creation and management
75. File conversion
76. Creating spreadsheets
77. Tracking and fixing broken links
78. Ecourse creation, management, and troubleshooting
79. Ad management
Social Media
80. Designing social media graphics
81. Scheduling social media posts
82. Creating and managing social media accounts and comments
83. Designing and scheduling Pinterest pins
84. Creating and managing Pinterest accounts and comments
85. Managing Facebook communities and groups
86. Social media keyword research
87. Ad management
Accounting
88. Bookkeeping
89. Payment and invoicing organization
90. Orders and refunds processing
91. Payroll processing
Writing
92. Ad copy
93. Website copy and formatting
94. Blog copy and formatting
95. Editing and proofreading
96. Social media post copywriting
97. Email marketing copywriting
98. Sales page copywriting
99. Ghostwriting
100. Podcast scripting
Virtual Assistant Services Rates
How much money can you make as a virtual assistant offering admin services?
The answer is: it's up to you! The more clients you work with + more specialized roles = the more money you can charge.
However, the starting rates a virtual assistant can generally charge is anywhere between $25-30 per hour. And with more experience, skills, and knowledge, those rates could climb to $40 per hour.
How to Become a Virtual Assistant
Anyone can become a virtual assistant offering administrative services or any of the services listed above. When starting a virtual assistant business, you don't need tons of experience.
Start with the Live Free Academy training. This program teaches you everything you need to get started. It covers everything you need to get started. The LFA training covers everything in short segmented videos you can watch!
The Most In-Demand Services
These are services in high demand right now.
Administrative services
Social media
Copywriting
Graphic design
Podcast support
Remember: when choosing what services to provide, business owners will hire for time-consuming services, services they do not like, and services they don't know how to do!
Services You Should NEVER Offer as a VA
Never offer a service you don't enjoy doing!
It should seem pretty straightforward, but you would be surprised at how many women start offering services they dislike because they read somewhere it's the "new cool service" that all business owners are looking to hire!
It is simply not worth it! Life is too short to do things you don't enjoy. And keeping or taking on a client just for the money, rather than because you enjoy the work, is preventing you from finding a client you enjoy!
How do you know what you do and don't like? When you first start, you will provide various services. You'll get to try different things to see what you do and don't like. Plus, you'll know where you want to focus!
Once you figure out what you like and don't like, you can keep those clients on retainer or seek new clients more closely related to the services you enjoy.
There is no harm in telling a current client that you are focusing your business on providing x,y, and z, which doesn't align with the services you are providing for them. Then refer them to someone who is providing those services. Now you are freed up to find more clients in your service niche!
How Do I Start Offering Virtual Assistant Services?
Are you done researching virtual assistant admin services and ready to start your VA business?
First, start binging the Live Free Podcast! It has all the information about how to start your business as a virtual assistant. Plus, success stories and guest interviews!
Next, sign-up for the Launch Fast Crash Course to get your freelance business making money ASAP! This course will help you figure out the services you can offer using the skills you already have.
Last, sign-up for the Live Live Free Academy. It teaches you exactly how to set up your business step-by-step! Each step has resources like Trello boards, discovery call scripts, and worksheets to take out any guesswork.