Last week, a question popped up in my DMs that was so good it had to be the next Quick Freelance Question Series episode! The question was, "How do you protect yourself from virtual assistant scams?" So, I pushed the topic to the front of the line!
We are going into what scams commonly look like in the virtual assistant space and the process to take to protect yourself from these virtual assistant scams from the get-go.
So, let's jump in!
One thing I've noticed is that when a lot of people hear "work from home" they automatically think SCAM. Either because they've been burned before or they've seen scams in the past.
How to Spot Virtual Assistant Scams
Virtual assisting is NOT a scam, but I can see where these people are coming from in that some people use the term 'work from home' to scam women who are desperately seeking a way to work from home.
Example of a virtual assistant scam
Here's an example, in the LFA free group on Facebook someone would post something like this, "I'm hiring to work from home, DM me for details."
Red Flag #1
In most cases, business owners that are actually hiring for work-from-home flexible positions are not going to say DM me for more information.
The reason for that is that legit business owners are busy!
If a legit business owner posted in a Facebook group that they were hiring and for applicants to DM them for details, they would get a ton of messages. Most business owners don't have time for that!
Red Flag #2
Then, once you begin messaging the scammer, the conversation will go something like this. The scammer will say, "You're hired! Send me your address. I'm going to send you this equipment then you are going to write me a check."
That's a scam!
In that situation, you are not going through the proper process to vet clients.
You should never need to give out sensitive information to clients. They should never need your address or social security number, nor will they send you any equipment to purchase or checks to do payroll.
There are scams that you may come across out there. In most cases, and in the cases of Live Free Academy Students, they are given the knowledge to build their business and find legit clients. And there are minimal instances of scams they come across. Plus, no instance of any students being scammed!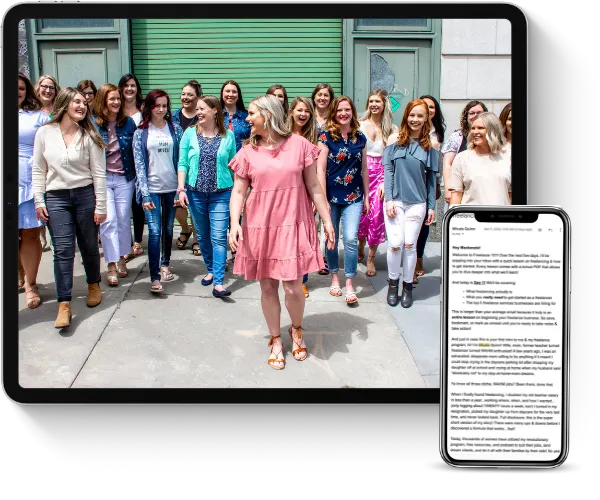 Learn how to earn $3K a month+ as a freelancer working less than 25 hours a week even if you think you have no experience.
This FREE crash course will teach you all about the freelance industry, so you can finally end the family vs. finances battle.
Steps to Take to Protect Yourself From Virtual Assistant Scams
Here are the steps you should take if you are a virtual assistant wanting to work with a potential client.
You have some type of conversation with this potential client. Whether that is through a Facebook group, in person, or you reply to a job board. There is some prior connection and conversation.
Remember: as a freelancer, you are not an employee. If someone is sending you a message or telling you that "you are hired" with no other communication-that is a RED FLAG!
The next step is to have a formal discovery call. Think of this call as similar to an interview when looking for a full-time position, when you go in and are asked questions. When you are a virtual assistant or service provider, in most cases, you should be asking the questions on the discovery call.
That can make some people nervous to ask questions and take charge in the interview process. If you want help sign up for

The Live Free Academy

 where you can access the questions you should ask in a Discovery call, or grab just the

Discovery Call Script from the Template shop

!
After the discovery call, you send a follow-up recapping what happened on the call. You will also send a proposal with what you recommend, what services are included, and the cost.
Next, they will either accept the proposal or ask questions that you would need to follow up on.
Then, when and if they accept the proposal, you would send a contract with terms outlining how payment is to be processed, how you will work, outline deliverables, etc.
Once they sign the contract, then you will send an invoice.
After the invoice is paid, then you start work working.
Following this process is how you protect yourself from online virtual assistant scams.
Exceptions
When you interview for some virtual assistant positions, and is a beginner role, sometimes the client will want to take control.
Typically if you follow this rule of thumb the process will work just fine: whomever the link the call was booked through should be the one to lead the call.
For larger packages that are a one-time project, that is maybe a project build or website design, and the due amount is a larger amount like $2,000+. In some cases, freelancers may choose to set up a payment plan for clients. For example, a portion of the amount due in the beginning to book a spot, another portion at a middle milestone, and the final amount due before final files are handed over.
I hope this post helps you to spot and protect yourself from virtual assistant scams! Don't forget to check out the new Template shop for the Discovery Call Script.
Or if you want more help, check out The Live Free Academy, where all the templates in the shop are included plus step-by-step training, coaching calls, challenges, daily job leads, and so much more!